CALLING ALL LAW STUDENTS
Host Your Own Podcast!
The D.C. Bar Law Student Community is seeking creative and engaged individuals to produce a podcast for law students, by law students*. Work with professional staff to write, host, and record a multi-episode season surrounding important issues within various practice areas. Meet and interview special guest speakers and engage with practicing attorneys. Enhance your written and oral presentation skills while creating something law students and lawyers from across the country can enjoy.
For more information or to express interest in contributing to Let's Brief It, a recipient of the 2020 Frederick B. Abramson Award, contact Brittany Sims Nwankwoala, Staff Attorney, Member & Policy, at [email protected].
"Let's Brief It": A Podcast by the D.C. Bar Law Student Community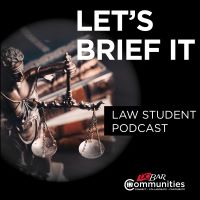 Season Three Hosts
Delali Dagadu, UDC David A. Clarke School of Law, Class of 2022
Sienna Heard, American University Washington College of Law, Class of 2022
Elena Hoffman, George Washington University Law School, Class of 2022
Season Two Hosts
Sienna Heard, American University Washington College of Law, Class of 2022
Elena Hoffman, George Washington University Law School, Class of 2022
Renata Mitchell, George Washington University Law School, Class of 2021
Kirsten Wolfford, George Washington University Law School, Class of 2021
Season One Hosts
Melody Alemansour, Georgetown University Law Center, Class of 2020
Alexis Byrd, UDC David A. Clarke School of Law, Class of 2020
Elena Hoffman, George Washington University Law School, Class of 2022
Renata Mitchell, George Washington University Law School, Class of 2021