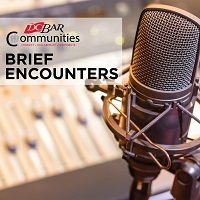 Brief Encounters offers exclusive interviews with program speakers to give sneak peeks into upcoming programming and on-demand content. Listen in and stay up to date with what's happening within D.C. Bar Communities! Season One has ended, but new episodes will resume on September 16, 2020. Episodes are released every other Wednesday. For more information or to express interest in contributing, email Jess Harris, SR Web and Events Assistant, at [email protected].
Appearances by:
A. Scott Bolden, Esq., De'Ana Dow, Esq., and Robin Nunn, Esq.
Christopher Healey, Esq., Valerie Mirko, Esq., and Christine Schleppegrell, Esq.
Women Interested in Leaving (big) Law (WILL)
D.C. Superior Court Judges Russell. F. Canan, Gregory E. Mize, and Frederick H. Weisberg
MGC Coaching
Michelle Bercovici, Esq. and Alison Davis, Esq.
AFS Financial Group
Brian Malkin, Esq., Sara Koblitz, Esq., and Taneashia Morrell, Esq.
Geoffrey Goodale, Esq. and Tatiana Sullivan, Esq.