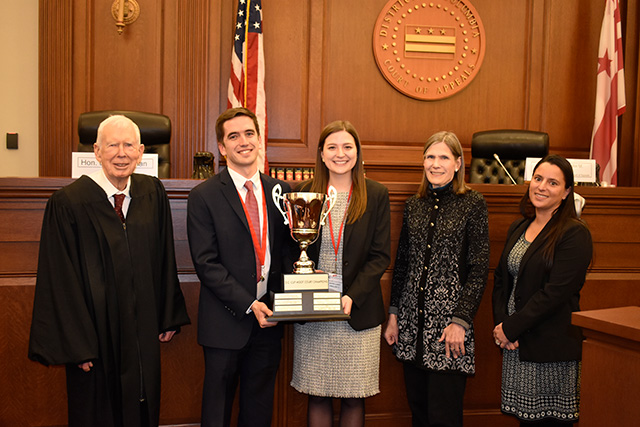 On February 28 Georgetown University Law Center students Victoria Brown and John McGowan prevailed over five other law school teams to win the 2020 D.C. Cup Moot Court Competition. McGowan also won the Best Oralist Award.
The competition, now in its seventh year, is sponsored by the D.C. Bar Communities and features teams representing the six law schools in the District of Columbia. Competing teams argue a case before volunteer judges, honing both their oral advocacy and brief-writing skills.
This year's case, United States v. Jordan Anthony Bonnie, revolved around burglary and bias-related crime. After submitting briefs representing either the appellant or the appellee, the teams faced off in oral arguments during two preliminary rounds on February 21. Forty-two volunteer judges helped evaluate the teams' performance in both written and oral advocacy prior to the final round.
In the end, Georgetown Law and the University of the District of Columbia David A. Clarke School of Law emerged as finalists. Both teams argued before D.C. Court of Appeals Senior Judge John M. Steadman, D.C. Bar President Susan M. Hoffman, and Solicitor General Loren L. AliKhan of the Office of the Attorney General for the District of Columbia.
This year's competition was coordinated by a committee composed of volunteer attorneys Scott Bernstein, Elizabeth Boison, Robin Earnest, Les Machado, and Christian Malott (who authored the problem), as well as staff from the D.C. Bar Communities Office.
Teams from American University Washington College of Law, Catholic University of America Columbus School of Law, Howard University School of Law, and The George Washington University Law School also took part in the competition.