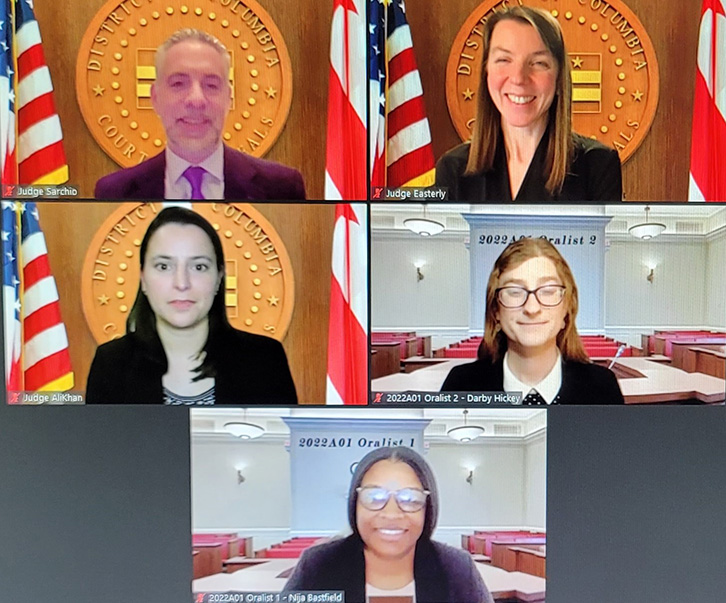 Clockwise from top left: D.C. Bar President Chad Sarchio, Judge Catharine Easterly, Darby Hickey, Nija Bastfield, and Judge Loren AliKhan
On February 25, the University of the District of Columbia David A. Clarke School of Law's Nija Bastfield and Darby Hickey won the 2022 D.C. Cup Moot Court Competition, besting teams from five other law schools. Samantha Soter from The Catholic University of America Columbus School of Law won the Best Oralist Award, while Don Jung and Paul Thornton from American University (AU) Washington College of Law took home the Best Brief Award.
For the second year in a row, the competition was held virtually by the D.C. Bar Communities due to the pandemic. In the three-round competition, teams from the District's six law schools argue a case before volunteer judges, honing both their oral advocacy and brief-writing skills.
The teams from UDC Law and AU Washington College of Law faced off in the final round and argued their case before D.C. Court of Appeals Judges Loren L. AliKhan and Catharine Easterly and D.C. Bar President Chad Sarchio.
"We approached the competition vigorously and got a ton of fantastic support from our teachers and coaches," Hickey said. "We felt very well prepared because we did about 10 practice moots with our coaches and received questions that pushed us to think. I think that is what prepared us to do well in each round."
In this year's hypothetical case, Whitman v. SousChef.com, C. J., Whitman, a legally deaf amateur chef, appealed to the D.C. Court of Appeals after a Superior Court judge dismissed his claim that SousChef.com, an online website that posts cooking videos, violated the D.C. Human Rights Act by posting its videos without closed captioning.
"Anyone who has felt discrimination before knows that it can sometimes come in many tiny different ways … and we needed to make that case," Hickey said. In describing the harm to their client, Bastfield said, "A paper cut is not a knife wound but it still hurts."
"At its core, this is a case about human dignity," said Federico Barillas, a senior program attorney at the Communities Office. "At a time when we're seeing challenges to this important concept, both domestically and internationally, it is important to remember that it matters how we treat others — that we should think more widely about what our responsibilities are to each other as a society."
The moot court competition not only helps to train future lawyers, but it also provides an opportunity for D.C. Bar members to volunteer, whether as brief judge, oral argument judge, or committee member. "It's a win-win for the students and the attorneys who volunteer. This competition teaches students how to write and how to argue a case in front of judges and be prepared for what the judges are going to throw at them," said Felicia Battista, chair of the D.C. Bar Communities' moot court committee and brief judge in the competition. "For the Bar member, it's a fun competition to do. You learn about new cases and it's giving back because it's a hard competition and you really want to help the students."
---
The D.C. Bar and the Communities Office gratefully acknowledge the efforts of all the volunteers and staff that helped make the 2022 D.C. Cup Moot Court Competition a reality:
Final Round Judges
Hon. Loren AliKhan, Associate Judge, D.C. Court of Appeals
Hon. Catharine Easterly, Associate Judge, D.C. Court of Appeals
Chad Sarchio, President, D.C. Bar
Oral Argument Round I and II Judges
Peggy Bennett
Liz Boison
Jose Caballe
Thea Cohen
Lisa Edwards
Carolyn Elefant
Larry Grayer
Jacob Grubman
Lisa Leibow
Christian Mallott
William Milliken
Matt Perdoni
Romeo Quinto
Barbara Sloan
Krissa Webb
Stefan Wolfe
Brief Judges
Kerry Adams
Robert Alexander
Felicia Battista
Dietrich Von Bedenfeld
Scott Bernstein
Antoinette DeCamp
Colleen Egan
Thomas Farrington
Brian Hoffman
Christina Kalavritinos
Donald McPhail
Armeen Mistry
Michael Morris
Andrew Proyect
Annette Reimers
Ralph Simmons
William Simmons
George Slover
Amy Visser
Patricia Watters
Jennifer Wedekind
Nicholas Weil
Jacqueline Williams
Richard Young
Competition Committee
Scott Bernstein
Liz Boison
Les Machado (Problem Writer)
Christian Mallott
Matt Perdoni
Andrea Rodricks (DC Bar)
Federico Barillas Schwank (DC Bar)
Candace Smith-Tucker (DC Bar)