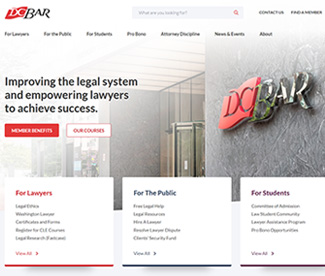 The D.C. Bar website was redesigned in 2020, featuring a clean design, robust content, and dynamic visual features to better serve Bar members and other visitors.
The website provides breaking legal news coverage, relevant practice-specific issues, in-depth features, and timely messages from the courts.
Visitors can stay on top of news and resources for lawyers, the public and law students, and also seek assistance from our Pro Bono Center.
To submit ideas or articles for the D.C. Bar website, email [email protected].
For more information about website advertising visit here, or contact Dan Kaste at 410-584-1968 or [email protected].