D.C. Bar Pro Bono Center Achieves 4-Star Rating From Charity Navigator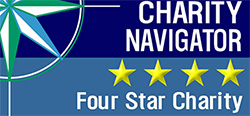 The D.C. Bar Pro Bono Center has earned a four-star rating from Charity Navigator, America's largest independent charity evaluator. The four-star rating, Charity Navigator's highest rating, recognizes the Pro Bono Center's strong financial health and commitment to accountability and transparency. Since 2009, the Pro Bono Center has received this rating 10 times.
Based on Charity Navigator's rating criteria, the four-star rating indicates that the Pro Bono Center "adheres to sector best practices and executes its mission in a financially efficient way." Only 20 percent of all rated charities have achieved the distinction of at least four consecutive four-star evaluations, which means that the Pro Bono Center outperforms most other charities in America and demonstrates its trustworthiness to the public.
The Pro Bono Center was evaluated using financial performance metrics such as program, administrative, and fundraising expenses; fundraising efficiency; accountability and transparency metrics; and financial capacity performance metrics.
---
February 2020