2022 Presidents Reception Raises Record $1.23 Million for Pro Bono Center
June 27, 2022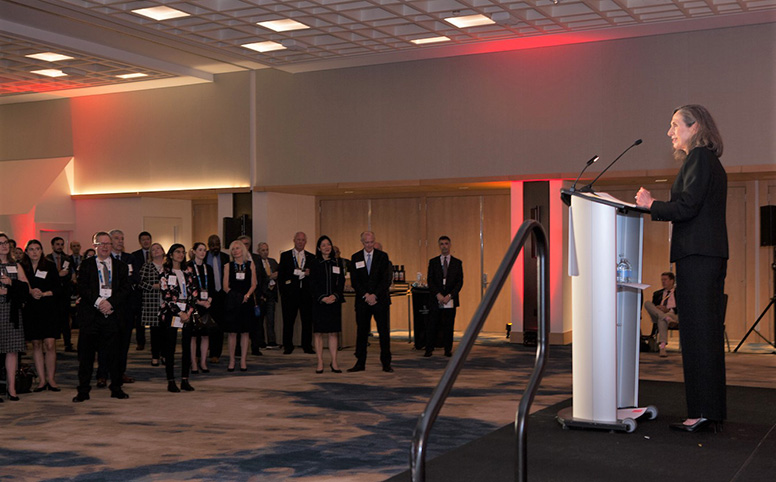 D.C. Bar President Ellen M. Jakovic addresses attendees at the 2022 Presidents Reception held in her honor. Below, Jakovic is joined by (from left) former D.C. Bar president Timothy Webster, Pro Bono Center Executive Director Kelli Neptune, and D.C. Bar immediate past president Chad Sarchio. (Patrice Gilbert Photography)
The D.C. Bar Pro Bono Center raised a record-breaking $1.23 million for the 2022 Presidents Reception on June 23 at the Renaissance Washington, DC Downtown Hotel. The annual event, hosted by past presidents of the Bar, raises funds to support the Center's transformative work and in honor of the Bar's incoming president.
The reception preceded the Celebration of Leadership, where Kirkland & Ellis LLP of counsel Ellen M. Jakovic was sworn in as the Bar's 51st president.
In his remarks, immediate past president Chad Sarchio welcomed his successor, calling Jakovic "the perfect person to lead our Bar as we embark on our next 50 years of serving our members so that they can serve the community."
After outlining many of her professional accomplishments such as serving two terms on the D.C. Bar Board of Governors and being president of the Women's Bar Association of the District of Columbia and the Barristers, Sarchio praised Jakovic for her tireless work to increase funding for civil legal aid in leadership roles at the DC Bar Foundation, the Women's Bar Association, and the Pro Bono Center.
Jakovic admitted feeling a little competitive regarding the evening's fundraising and motivated by the weight of expectation. She thanked those who donated in her honor, giving special mention to Kirkland & Ellis and 80 colleagues for contributing $185,000 to the Pro Bono Center, the largest donation raised by a law firm for an incoming Bar president.
Citing rising inflation and its impact on many families, especially those that have already been devastated by the pandemic, Jakovic called on all the attendees to double down on their support for the Pro Bono Center and other legal aid services providers throughout the District.
"As lawyers, we have the power and responsibility to help our neighbors navigate these legal challenges," Jakovic said. "There is no greater use of our legal education, skills, and training than to stand up for someone in need at a time of crisis. Together, we can make our community a better place for everyone to live and to thrive."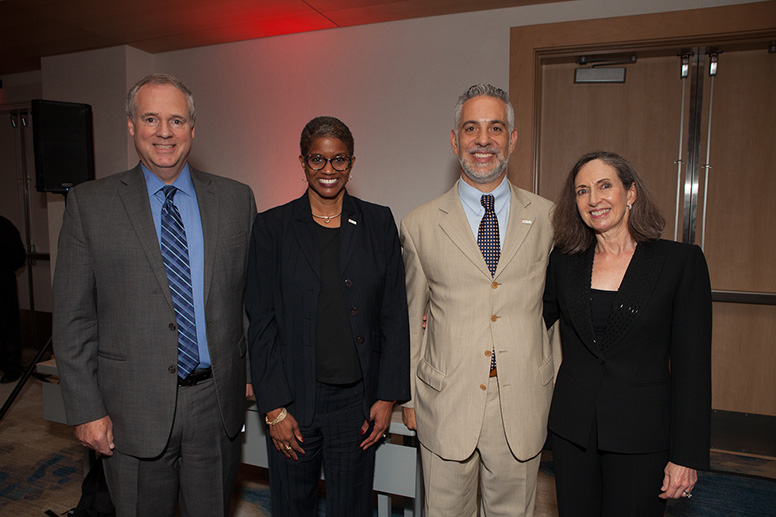 Former D.C. Bar president Timothy Webster, current chair of the D.C. Bar Pro Bono Committee, applauded the volunteer fundraising committee for surpassing the previous fundraising record by more than $100,000. Webster, along with former D.C. Bar president Susan Hoffman, co-chair the Presidents Reception Development Committee.
Webster also paid tribute to Mark Herzog, a former D.C. Bar Pro Bono Center associate director who passed away last year. Webster recalled that Herzog helped build most of the Center's clinics that today provide free legal help to District residents in need.
"Mark was a powerful advocate for those experiencing poverty," Webster said. "He was a relentless strategist for improving legal services and a trusted mentor for countless lawyers and others."
In commemorating Herzog's legacy of pro bono service, Webster announced the formation of the Mark Herzog Public Interest Scholarship at the University of the District of Columbia David A. Clarke School of Law. "If you were touched or inspired by many of Mark's contributions to the community, please consider donating to the fund," said Webster.
The Presidents Reception also welcomed the Pro Bono Center's new executive director, Kelli Neptune, former director of externships and public interest programming at Howard University School of Law. Neptune spent 12 in private practice representing clients in family and criminal law matters and nine years at the Public Defender Service for the District of Columbia.
Neptune expressed gratitude to the Pro Bono Center's numerous volunteers, law firm supporters, donors, and legal services organization partners. She also gave a special shout out to Darryl Maxwell, who led the Pro Bono Center as acting executive director until her arrival in late May, and the Center's staff for their commitment to closing the access to justice gap for D.C. residents, small businesses, and nonprofit organizations.
"They have persevered through two years of remote operations and practices and many changes in law," Neptune said. "Yet they have maintained their energy and commitment, finding new and creative ways to help our clients."
Neptune also recounted some of the Center's major accomplishments during the past year, which include helping 3,500 residents and small landlords through the Landlord Tenant Legal Assistance Network; sealing more than 200 eviction records; assisting more than 670 families with divorce, child custody, child support, and parentage matters through the Family Law Assistance Network; helping more than 1,000 nonprofit and small businesses; and training more than 1,500 lawyers for pro bono service.
She commended the Pro Bono Center's training program for receiving this year's Frederick B. Abramson Award, as well as Skadden, Arps, Slate, Meagher & Flom LLP as Pro Bono Law Firm of the Year and Cassandra Rasmussen as the Laura N. Rinaldi Pro Bono Lawyer of the Year.
"Skadden is pro bono powerhouse. Last year, 87 percent of Skadden's D.C. lawyers worked on a wide variety of issues, spending 36,000 hours or 9 percent of their billable time for its pro bono projects," Neptune said. "Cassie volunteered 480 pro bono hours last year. She represented D.C. residents in matters involving disability benefits, asylum, child custody, and civil protective orders. These awardees are shining examples of service to our community."