D.C. Bar Celebrates 50 Years of Excellence, Welcomes Ellen M. Jakovic as 51st President
June 24, 2022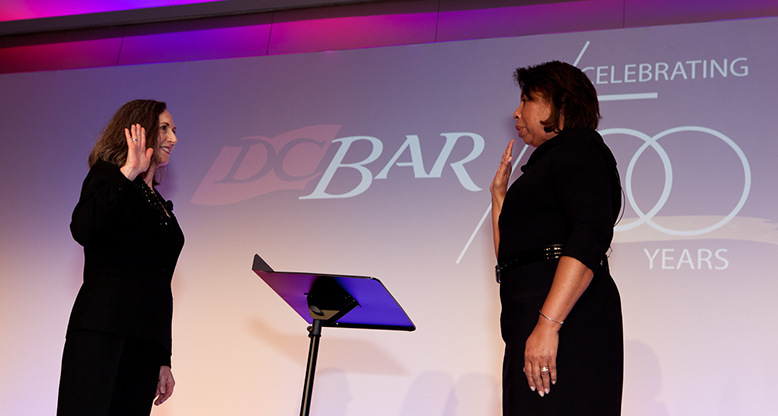 Ellen M. Jakovic, of counsel at Kirkland & Ellis LLP, is sworn in by D.C. Court of Appeals Chief Judge Anna Blackburne-Rigsby as the 51st president of the D.C. Bar.
On June 23 nearly 300 people gathered at the Renaissance Washington, DC Downtown Hotel for the D.C. Bar Celebration of Leadership featuring the formal swearing in of Ellen M. Jakovic, of counsel at Kirkland & Ellis LLP, as the Bar's 51st president. Other highlights of the evening included the presentation of awards to outstanding Bar members and groups that have raised the standard for legal excellence and service to the community.
After being sworn in by D.C. Court of Appeals Chief Judge Anna Blackburne-Rigsby, Jakovic delivered her first address as president, reflecting on the Bar's first half century and looking ahead to its next 50 years. "From our humble beginnings in 1972, the D.C. Bar has grown to become the largest unified bar in the nation," she said. "Together, we have built a truly exceptional bar, and one that I am so proud to say that I am a member of."
In the coming year, Jakovic said she and the Board of Governors will work to continue the Bar's impressive tradition of service by focusing on three critical areas. "First, we will continue the Bar's longstanding support of access to justice and pro bono work. We will work with community stakeholders to ensure critical funding and enhance the delivery of legal services to those unable to afford a lawyer," Jakovic said.
"Second on our agenda, we will continue to foster the Bar's commitment to an inclusive environment that welcomes and values our diverse D.C. Bar membership," Jakovic said. That work includes exploring ways to ensure leadership and mentorship opportunities are available to women and diverse attorneys both within the Bar and in the broader legal community, she added. Jakovic also applauded the accomplishments of the Bar's Diversity, Equity and Inclusion Committee and referenced the intention to establish a task force to determine the Bar's next steps.
"Third, we will explore ways to make our D.C. Bar Communities and voluntary bar associations grow and thrive. We will work to strengthen connections, foster collaboration, build community, and increase participation, especially among our young lawyers, who have faced unique challenges during the pandemic," she concluded.
Immediate past president Chad Sarchio, associate chief counsel at the Drug Enforcement Administration, delivered his final address to the membership that evening before passing the ceremonial gavel of leadership to Jakovic. Sarchio's address was full of gratitude for those involved in the regular operation of the Bar, to his colleagues on the Board, and the D.C. Courts. "As I've said before during our golden anniversary … we truly have a Bar of gold, and it will only get better," he said.
Among the evening's speakers was former Bar president and Legal Services Corporation president emeritus Jim Sandman, who introduced Jakovic in a moving speech in which he recounted her many accomplishments and long history of service. "The single worst job on any nonprofit board is chair of the development committee," Sandman said. "Ellen volunteers for it, and she does it dazzlingly well." He went on to say that Jakovic's sincerity and belief in the causes she promotes make her a compelling salesperson. "Get ready to open your wallets. This is going to be a great year for the D.C. Bar Pro Bono Center," he said.
Honoring Outstanding Accomplishments
The Celebration of Leadership also acknowledged the meaningful contributions of Bar members to the legal profession and the D.C. community that exemplify the Bar's values of service, integrity, community, and inclusion.
Judith Sandalow, executive director of the Children's Law Center (CLC), was honored with the Justice Thurgood Marshall Award for her significant, positive impact on the quality of administration of justice. Sandalow has led the CLC for 22 years, during which time the organization has grown from three staff members to more than 90 attorneys, social workers, investigators, and other professionals who each year assist more than 5,000 children and families living in poverty in the District.
Sandalow has dedicated her entire legal career to helping low-income children and families as well as youth involved in the juvenile justice system, from supervisor attorney with DC Law Students in Court (now Rising for Justice) to private practice to the Office of Special Officer of the D.C. District Court.
In his introduction, Sandman called Sandalow "a formidable lawyer, an extraordinary leader, a visionary, an innovator, an entrepreneur, a builder, and a pragmatist. She knows how to get things done."
In her speech, Sandalow said receiving an award named for Justice Marshall is "just completely humbling." Highlighting the award's intent to advance equal justice, Sandalow detailed the wealth gap between lawyers and minimum-wage workers that has widened dramatically since 1959, when her father became an attorney. While minimum wage salaries have grown 50 percent since then, those of first-year associates have grown 250 percent, she said.
"Those increased salaries don't just cost your corporate clients. They actually reduce access to justice for low-income families and children," she added. "Justice goes beyond our time in the courtroom, beyond representing a low-income client. How we build our legal institutions matters."
The Bar also presented its Beatrice Rosenberg Award for Excellence in Government Service to
Susan K. Pascocello, senior advisor in the Office of the General Counsel at the United States Agency for International Development, where she has served for more than 20 years. Previously she served as deputy general counsel and acting general counsel, leading more than 110 attorneys in Washington, D.C., and in nearly 40 countries as they provided legal advice on a range of issues, from the HIV/AIDS and Ebola pandemics to the humanitarian refugee crisis wrought by the Syrian conflict.
Amy Mix, chief of the Elder Justice Section of the Office of the Attorney General for the District of Columbia, received the Bar's inaugural Elizabeth Lewis Award for Excellence in Continuing Legal Education. Mix has taught several highly rated elder law courses for the Bar's CLE Program and was instrumental in planning its Aging and the Law Institute and Government Law Institute.
The Frederick B. Abramson Award went to the D.C. Bar Pro Bono Center Training Program, which in 2021 set registration records, responded quickly to changing laws and regulations due to the pandemic, and formed new partnerships to meet the increased demand for free legal assistance. The Women's Bar Association of the District of Columbia and the Estates, Trusts and Probate Law Community were honored as Voluntary Bar Association of the Year and Community of the Year, respectively.
The firm Skadden, Arps, Slate, Meagher & Flom LLP is this year's recipient of the Pro Bono Law Firm of the Year Award. In 2021 more than 87 percent of the firm's D.C. lawyers spent over 36,000 hours (9 percent of their billable time) on pro bono projects involving landlord–tenant, family law, domestic violence, and criminal matters, among others. More than 150 D.C. office lawyers and legal professionals provided immigration representation in approximately 70 separate immigration matters.
The Laura N. Rinaldi Pro Bono Lawyer of the Year award was bestowed upon Cassandra Rasmussen, formerly of King & Spalding LLP, for her many efforts on behalf of the District's most vulnerable residents. Notably, she spent 480 hours in 2021 on pro bono matters involving Social Security disability benefits, asylum, child custody, and civil protective orders.
The D.C. Bar Communities Office also presented its inaugural Trailblazer Awards to the following recipients for their excellence in their professional and personal lives as well as dedication to the Bar's mission: De'Ana H. Dow (Corporation, Finance and Securities Law Community), Walter A. Smith Jr. (District of Columbia Affairs Community), Priya P. Royal (Estates, Trusts and Probate Law Community), Debra S. Katz (Labor and Employment Law Community), Benjamin L. Grosz (Law Practice Management Community), and Scott M. Levine (Taxation Community).
Recognizing Legal Legends
The Celebration of Leadership was preceded by the Bar's 2022 Conference, which recognized six D.C. legal trailblazers whose careers and accomplishments have helped move the profession forward, opened a path for others to follow, and advanced the Bar's mission to promote access to justice. The honorees were:
John C. Cruden, currently a principal at Beveridge & Diamond who has a long and distinguished career in government, private practice, and the military and is a recognized leader in the field of environmental law.

Judge John M. Ferren, who served more than four decades on the D.C. Court of Appeals following his appointment in 1977 by President Carter. After serving as an active judge for 20 years, Judge Ferren retired in 1997 to become corporation counsel for the District of Columbia, returning to the court in 1999 as senior judge.

Judith Lichtman, a defining voice in the advancement of women's rights. Lichtman led the National Partnership for Women & Families in advocating for every major piece of civil rights legislation related to women and families, including the Pregnancy Discrimination Act of 1978, the Family and Medical Leave Act of 1993, and the Health Insurance Portability and Accountability Act of 1996.

Pauline A. Schneider, currently chair of the Federal Law Enforcement Nominating Commission created by Congresswoman Eleanor Holmes Norton, was elected as the first African American woman president of the D.C. Bar in 1994. Schneider specialized in public finance at Hunton & Williams, where she was the first African American female partner at the firm; at Orrick Herrington & Sutcliffe; and then at Ballard Spahr before retiring in 2016.

Preeminent domestic relations attorney Marna S. Tucker, founder and senior partner at Feldesman Tucker Leifer Fidell LLP. She holds the distinction of becoming the first woman president of both the D.C. Bar in 1984 and the National Conference of Bar Presidents in 1991.

The late Edgar S. Cahn, a lifelong advocate for access to justice. Cahn was instrumental in founding what is now the largest federally funded civil legal aid program for low-income Americans. Cahn co-founded Antioch School of Law in 1972, predecessor of the University of the District of Columbia David A. Clarke School of Law, and served as its co-dean from 1971 to 1980.