Meet the IP Volunteer with a PhD in Organic Chemistry
November 17, 2021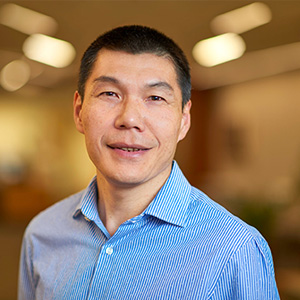 Wilson Sonsini Goodrich & Rosati associate Feng Tian holds a Ph.D. in organic chemistry, secured patents for pharmaceutical inventions, and even helped create a drug candidate for treatment of diabetes.
How did his career in research science lead him to a career in intellectual property law and volunteer service with the Pro Bono Center's Nonprofit & Small Business Legal Assistance Programs?
Feng grew up in Beijing, China. As a high school student, he placed third in a state-level chemistry competition, which served as the catalyst for his studies at Peking University. After completing a Bachelor and Master of Science at Peking University, he immigrated to the United States to continue his education. He later received his Ph.D. in organic chemistry from Michigan State University.
As a research scientist, Feng led a team of chemists seeking a cure for diabetes. They successfully discovered and patented a small molecule drug candidate as a potential treatment for Type 1 and 2 diabetes. The organization later went bankrupt, and Feng's last paycheck came from the sale of patents. The experience inspired him to explore a career in IP law because IP has value and may have a longer life than the initial owner of the IP.
Today, Feng is a senior associate at Wilson Sonsini Goodrich & Rosati where his practice focuses on patent prosecution, IP due diligence, and general intellectual property counseling. He's also a regular volunteer with the D.C. Bar Pro Bono Center's Nonprofit & Small Business Legal Assistance Programs (NPSB). "By working with NPSB, nonprofit organizations and small business owners can find answers to their legal questions and be better prepared to reach the full potential of their businesses," Feng said. "It's also a meaningful way for me to give back to the local organizations that give our community so much."
Christine Kulumani, the Center's small business attorney, complimented Feng's volunteer efforts. "Feng does a great job making complicated IP matters digestible for our clients. He provides thoughtful advice in a friendly and approachable way. Most impressive of all, he has gone above and beyond by helping clients respond to Trademark Office Actions."
During one clinic, Feng helped a client with the trademark application process for their networking service through an online legal service platform. During the interview, he found out that the online legal service platform never filed the trademarks for the client. He explained the trademark application process to the client and encouraged the client to file the trademark application directly. "The client was focused, professional, and enthusiastic about helping others to extend their social and professional networks," Feng said. "I was glad to help in a small way."
Feng has put his skills to pro bono practice by consulting with clients through the Pro Bono Center's Nonprofit IP Clinic, Small Business Brief Advice Legal Advice Clinic, and Startup Legal Clinic for Nonprofits & Small Businesses. His current practice in IP due diligence, and general IP counseling has prepared him translate complex information to outside audiences, and an affinity for giving back has prepared him to help local small businesses and nonprofits.
Asked how he finds time to serve the community in addition to his busy law practice, Feng noted that most of his pro bono work through the D.C. Bar Pro Bono Center only requires an hour or two of commitment, which he can accommodate with some planning. He also treats pro bono work as an opportunity to meet other like-minded attorneys in the DMV.
"I would encourage members to try out a few events organized by the D.C. Bar and meet fellow volunteers. I understand that the pandemic makes it harder to socialize with fellow volunteers during pro bono events," Feng said. "On the flip side of the coin, online pro bono events allows volunteers to help the community from anywhere in the world (I once volunteered from France), and reduces the travel time to the event sites. Overall, I enjoy my time working with the D.C. Bar Pro Bono Center online or in person."
"Helping pro bono clients from all walks of life is gratifying," Feng said. "On many occasions at the Small Business Clinic, I learned about the struggles of entrepreneurs who tried to find a path forward through the jungle of IP protection. It is gratifying to help people in matters important to their lives and businesses."