Immigration Clinic Offers Volunteers a Pathway to Service
February 12, 2021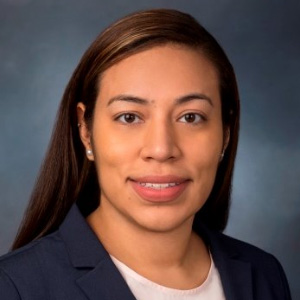 Clark Hill associate and Immigration Legal Advice & Referral Clinic mentor Elsy Ramos Velasquez saw the need for legal resources in the D.C. Latino community at a young age. A native of Cheverly in neighboring Prince George's County, Maryland, Ramos Velasquez planned to give back early in her life. "I always knew I wanted to help people and thought this was the best way I could."
Ramos Velasquez became interested in immigration law while completing her undergraduate degree at the University of Miami in South Florida. She interned at several nonprofit organizations that provided legal assistance to immigrant communities throughout the region. She then worked as a paralegal for a small law firm in Arlington, serving immigrant clients, before attending the University of Baltimore School of Law.
The D.C. Bar Pro Bono Center's Immigration Legal Advice & Referral Clinic is a quarterly clinic for D.C. residents with immigration law questions. The Clinic is typically held every March, June, September, and December. Before COVID-19, we held the Clinic on Saturday mornings at Carlos Rosario International Public Charter School in Columbia Heights. The Clinic has since moved to a week-long remote format to allow volunteers and clients the most flexibility.
As an attorney who specializes in immigration law, Ramos Velasquez mentors the volunteers, providing advice on immigration issues that need clarification. "These clinics are vital, especially when the immigration laws are constantly changing," Ramos Velasquez said. "It is an honor to serve as a mentor and to provide vulnerable people with some direction to their problems."
Ramos Velasquez began volunteering more than two years ago, regularly dedicating one Saturday every quarter to those seeking asylum, applying for naturalization, or dealing with another pressing immigration need. Pro Bono Center Managing Attorney Adrian Gottshall appreciates Ramos Velasquez's service: "Elsy has dedicated herself to helping D.C.'s immigrant community. Her service has been exemplary. It's proof of the difference attorneys can make with pro bono work."
"The clinics are a great way to expose yourself to the different pro bono service opportunities," Ramos Velasquez said. "It's a foot in the door to volunteering. If you are hesitant about taking on a full case from start to finish, this is the perfect way to assist with an immigration case without committing to a full case. The time commitment is nominal compared to the great work that you will do."
The Immigration Legal Advice & Referral Clinic is seeking volunteer attorneys with five or more years of immigration experience. Interested volunteers can contact Adrian Gottshall directly via email at [email protected].