First Virtual Immigration Clinic Serves 39 Clients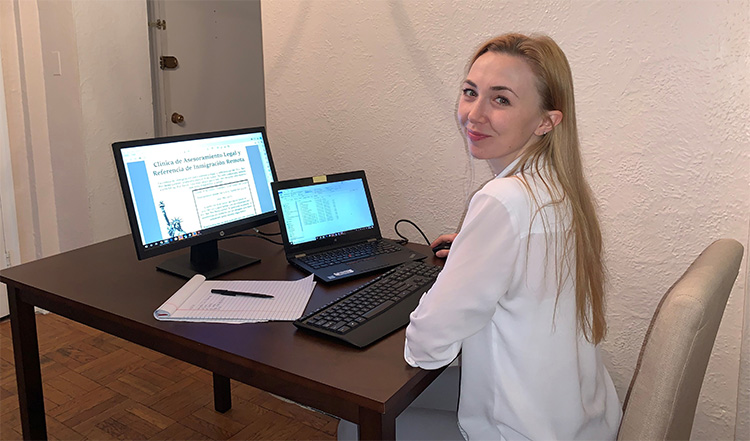 Pro Bono Center Bilingual Intake Coordinator Cecilia Esterline assists clients from home during the first virtual Immigration Legal Advice & Referral Clinic.
Since 2004, the D.C. Bar Pro Bono Center has operated a quarterly Immigration Legal Advice & Referral Clinic. In recent years, the clinic has been held on Saturdays in Columbia Heights. With the start of the pandemic, the staff considered how to continue serving the scores of asylum seekers and others with immigration issues typically helped at each clinic.
Just as it swiftly adapted to serving its other clients remotely, the Pro Bono Center decided to offer a virtual clinic. And rather than offering services over the course of one Saturday, it operated its remote clinic over the course of one week. From June 8 to June 12, 2020, staff and volunteers served 39 individuals from 22 different countries.
The clinic typically operates with immigration law experts mentoring a loyal cadre of regular volunteers who speak a variety of languages. For the June virtual clinic, our expert mentors, many of whom are also bilingual, responded to the Pro Bono Center's call to serve clients directly on the phone.
To get the word out to the client community, the Pro Bono Center advertised its dedicated Immigration Clinic phone line for several weeks before the clinic. During the clinic week, bilingual program staff answered calls and conducted intake to determine each client's legal needs and primary language before connecting them with a volunteer for consultation. Pro Bono Center Staff Attorney Alicia Lee managed the inaugural virtual clinic and attributed its success to the 10 expert volunteers from seven law firms:
Calderón Seguin PLC
Clark Hill PLC
Fragomen, Del Rey, Bernsen & Loewy, LLP
Fried, Frank, Harris, Shriver & Jacobson LLP
Grossman Young & Hammond, LLC
Hunton Andrews Kurth LLP
Orr Immigration Law Firm P.C.
Attorney volunteers helped callers with a broad range of immigration questions related to family members, removal, asylum and citizenship. Dan Williamson, a partner at Fragomen, Del Rey, Bernsen & Loewy, said, "Individuals at all income levels need access to legal assistance. It's great when we can find a legal solution for someone who thought they had no recourse."
Volunteers helped clients in Amharic, Bengali, English, French and Spanish—about 75% of callers were Spanish speakers.
Describing the Clinic's essential services, Staff Attorney Alicia Lee said, "Our aim was to provide clarity to those with civil legal problems governed by U.S. immigration laws during these unprecedented times. People who rely on our clinic are concerned about how the pandemic, recent changes in the law, and status of the courts are affecting their legal issues." Lee continued, "For the first time, our staff and dedicated volunteers adapted to bring the clinic into our clients' homes. We're learning that serving clients remotely can eliminate barriers and increase access to justice."
The next virtual Immigration Legal Advice & Referral Clinic will take place in September.