Legal Happenings
Lawyers Rock Out for Charity
November 15, 2022
Lawyers can rock, too, and here in the District of Columbia, lawyer bands not only can rule the stage but also turn their passion into purpose.
In September, Law Rocks D.C. held its seventh annual concert at the historic 9:30 Club and raised more than $125,000 for District charities, bringing it within striking distance of its 2021 fundraising record. Founded in 2009, the global organization holds battles of the bands in various cities to raise funds for local nonprofit organizations.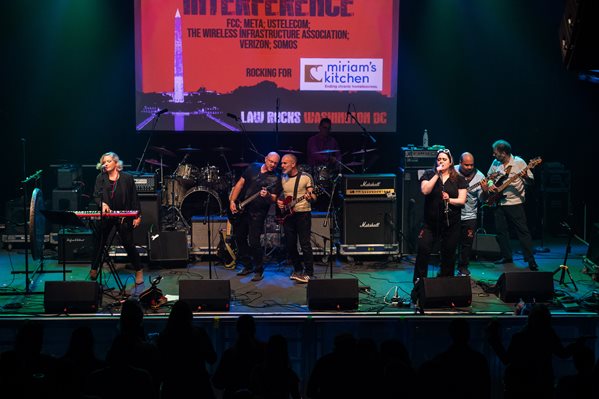 Harmful Interference performs at this year's Law Rocks D.C. concert.
"We've enjoyed a surge of interest and enthusiasm in our cities this year," says Law Rocks director Omi Crawford. The Los Angeles event, for example, raised a record-breaking quarter of a million dollars, and the Houston concert quintupled its inaugural fundraising amount. "Maybe rocking out provides a much-needed release," Crawford adds.
Another staple in the legal rock and roll scene in the District is Banding Together, which gathers law-firm sponsored bands to showcase their skills and raise money for Gifts for the Homeless (GFTH). For the past three decades, the Washington, D.C., nonprofit has been providing essential winter clothing, blankets, and accessories to homeless shelters, soup kitchens, transitional housing facilities, and other homeless support organizations.
After a two-year hiatus, Banding Together returned in October to the historic Black Cat club to rock it out for a cause. "Every year the D.C. legal community comes together to show off its musical talent and its compassion for our region's homeless population. Prior to the pandemic, the participating bands enabled us to buy more than one million dollars' worth of clothing and blankets for the shelters in the region," says Bart Epstein, GFTH president, in a press statement.
A Showcase of Musical Talent
At this year's Law Rocks D.C., there was evident heightened enthusiasm with the participation of a few first-timers: The DePlorables, a '70s glam punk band made up of legal talent from Berke Farah LLP, the Library of Congress Law Library, and Platinum Advisors; The Precedents, a veteran outfit with members from Willkie Farr & Gallagher LLP, Interactive Brokers, the U.S. Department of Justice, and McGuireWoods; and Night Work, comprising legal talent from Akin Gump Strauss Hauer & Feld LLP.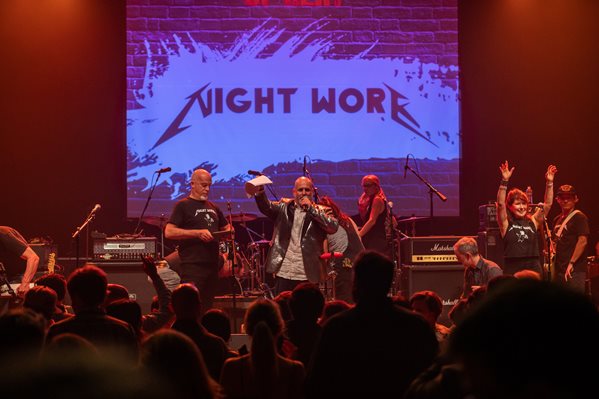 Night Work takes the stage at the 9:30 Club.
Night Work takes its name from Akin Gump founder Bob Strauss's onetime appeal to a client: "You've given us your night work; now can we have your day work?" The first iteration of the group came about when former high school bandmates Steve Kho and Tom McCarthy came to be reunited as law partners at the firm.
Night Work initially performed more or less exclusively at the firm's partner meetings. Inspired by a Houston partner's win in that city's Law Rocks competition, McCarthy and Kho set about organizing a local group to enter the competition. McCarthy plays guitar and Kho is on keyboard.
McCarthy has taken to area stages previously with his bands No Second Troy and The Reserves. Night Work's performance was a different experience, however. "With original music you want to convince people that you have a song worth listening to," McCarthy says. The Law Rocks performance, by contrast, is all about fun. "You're there to bounce around together and get everybody to sing along."
Night Work's set included cover songs calculated to do just that. Its performance of the B-52s classic "Love Shack" allowed for the band to take full advantage of its two female singers and theatrically inclined male lead vocalist. "The crowd loved it," McCarthy says.
Harmful Interference, made up of telecommunications professionals from the Federal Communications Commission, Meta, Verizon, the Wireless Infrastructure Association, USTelecom, and Somos, brought their own stagecraft to a production of the Bangles hit "Walk Like an Egyptian." This year's concert was Harmful Interference's third performance at the event and its first win.
The band might have seized victory the moment when Kelly Donohue struck the gong set up next to her keyboard kit during the opening moments of the track. The crowd roared its approval, cheering each time the brass disk was deployed to punctuate a verse. "It was an amazing energy," says Dohonue, Meta public policy manager for connectivity and access.
Donohue was involved in assembling Harmful Interference three years ago. A lifelong musician, she fronts the popular "kindie rock" band Here Comes Trouble, performing kid-friendly rock and indie tunes with guitarist and Wireless Infrastructure Association President and CEO Patrick Halley. Donohue says she and Halley asked each other whether they should find an opportunity to play for adults occasionally, leading to their recruitment of industry peers with a passion for music, including Somos Vice President Joel Bernstein, who plays in a classic rock cover band and recently joined Here Comes Trouble as its bass player.
Victory is sweet, but Bernstein says that even without winning, he enjoys the bragging rights that playing Law Rocks events has earned him. "If you can say, as a musician, I've played the 9:30 Club a couple of times, that's instant credibility," he says. Playing has also allowed him to reconnect to his youthful interests in a productive way. "As a midlife crisis, it's cheaper and more satisfying than a sportscar," he says.
Funds raised at Law Rocks competitions are another significant source of satisfaction for participants. Harmful Interference's performance benefited Miriam's Kitchen, an organization that provides an array of services intended to help end homelessness in the District.
Noise in the Basement, a past Law Rocks favorite, had to pull out of the competition at the last minute when two bandmates came down with COVID the morning of the show. Nonetheless, the band still raised $16,000 for Together We Bake and Law Rocks. Venable partner Andrew Price, who was not among the band members who fell ill, took an opportunity to experience the concert from the perspective of an attendee rather than a performer.
"It was a really interesting experience," Price says. The stress before performance and the adrenaline following it typically detracts from the ability to focus on the other bands. "It really blew me away that the show is as good as it is. It's a high-end, very entertaining experience, which is remarkable given that these are mostly practicing lawyers," he says.