Legal Happenings
Human Rights Campaign, VP Harris Rally LGBTQ+ Community to Build Coalitions
November 07, 2022
On October 29 Human Rights Campaign (HRC) hosted Vice President Kamala Harris at its annual dinner that drew approximately 3,000 attendees and raised more than $100,000 in a silent auction for the advocacy group.
In her speech, the vice president underscored the power of coalition building. "The only way we move forward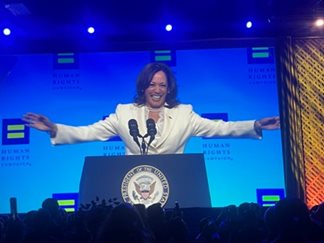 as a nation is together," she said. "The leaders in this room have helped our nation reach its highest ideals," Harris continued. "It is the leaders in this room, and so many before us, who have marched and protested and organized and ran for office."
Harris spoke about mounting challenges facing the LGBTQ+ community, including children's hospitals receiving bomb threats for providing care for transgender youth and white supremacists showing up at pride festivals armed with assault weapons. "Trans folks, in particular trans women of color, have faced record levels of deadly violence. Every day, LGBTQ+ youth are enduring bullying and harassment. And in states across our nation, extremist so-called leaders have fanned the flames of hate and homophobia for political gain," Harris said.
"To respond to these threats, we must join together," Harris added. "Rights are won only by those who make their voices heard."
Harris recalled attending her first HRC dinner in 1999 when discussing her long-standing allyship with the LGBTQ+ community and meeting leaders such as Bayard Rustin, Sylvia Rivera, Harvey Milk, and Jim Rivaldo, the political consultant who strategized Milk's election to San Francisco's Board of Supervisors. Rivaldo also worked with Harris when she ran for district attorney in San Francisco.
"[Rivaldo] would often tell stories and recount the earliest days of the gay rights movement," Harris said. "He would talk about the importance [then] and the continuing importance of working together. He talked about how the origins of the movement really prioritized bringing folks together from the civil rights movement, the labor movement, and the women's rights movement."
In her speech, incoming HRC president Kelley Robinson said that under her leadership the organization will continue to pursue "centering equality and liberation for all, without exception."
"If this year has taught us anything, it's that playing small doesn't serve us; being incremental doesn't serve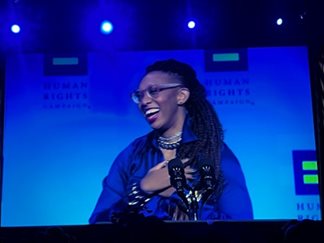 us," Robinson said, citing the more than 240 state legislative bills targeting transgender people and the fall of Roe v. Wade. "And we don't get anywhere by leaving anyone behind."
"This movement is about the survival of LGBTQ+ kids and our families. I'm talking about the mother of a trans kid in Texas who put her house on the market and packed up, saying that she was choosing to mourn the loss of her home than the loss of her child. I'm talking about the gay couple who marched to the first [gay] pride parade then got married 10 years back. And now they worry that all the rights they fought so hard for, including their own marriage, are at risk," Robinson said.
"This moment is about survival for folks across the nation who are being denied access to basic health care. I'm talking about the people living in one of those states that banned abortion access, making the decision to travel hundreds of miles or be forced to carry their pregnancy to term. I'm talking about the young trans man in Florida who just lost access to Medicaid coverage for any gender-affirming care," she added.
Robinson, the first Black queer woman to lead HRC, started her career in 2008 as a youth organizer for Barack Obama's presidential campaign. She joined Planned Parenthood a year later, rising to become executive director of its action fund and vice president for organizing and advocacy in 2019.
"It's not lost on me that too many of us, literally and figuratively, are not supposed to be here. And yet we are," Robinson said, mentioning that her ancestors were born into slavery in the United States. She also recognized her wife, the daughter of South Asian immigrants. "We are the living embodiment of what it means to be beyond our ancestors' wildest dreams. So tonight, it's about expanding our imaginations to what is possible."