USAID's Susan Pascocello Wins 2022 Rosenberg Award
March 31, 2022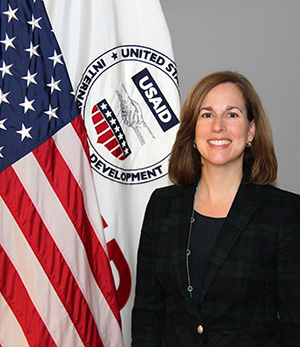 The D.C. Bar has selected Susan K. Pascocello, senior advisor at the United States Agency for International Development's (USAID) Office of the General Counsel, as the 2022 recipient of its Beatrice Rosenberg Award for Excellence in Government Service. The Bar bestows the honor each year on a Bar member in acknowledgement of career accomplishments that exemplify the highest order of public service. Pascocello will be recognized at the Bar's Celebration of Leadership on June 23.
"Having had the privilege of knowing and greatly admiring many of the past recipients, I was honored and thrilled to receive the call notifying me that I had been selected," Pascocello said. "I consider this to be one of the highlights of my long-standing career in public service."

Pascocello has worked in USAID's Office of the General Counsel for more than 20 years. From April 2012 to July 2020, she served as deputy general counsel, which overlapped with her role as acting general counsel for four periods between August 2012 and May 2019. In that role, she was responsible for all legal, regulatory, and policy matters affecting USAID, which has approximately 11,000 employees and an annual appropriation of more than $25 billion. As the highest-level career attorney at USAID, Pascocello led more than 110 attorneys in Washington, D.C., and in nearly 40 countries as they provided legal advice for USAID programs addressing a range of issues, from the HIV/AIDS and Ebola pandemics to the humanitarian refugee crisis wrought by the Syrian conflict.
Pascocello helped design and launch the USAID Global Development Lab in 2014 to harness innovation, science, and technology while tackling the most difficult issues facing international development. For example, she led her office's work with the lab to launch the Development Innovation Accelerator (DIA), which expanded the agency's ability to fund research and development projects with experts and world-class institutions. Recently, the DIA was used to help generate designs of personal protective equipment that could be used by health care workers for Ebola treatment.
Pascocello also played an instrumental role in conceptualizing and launching the agency's Action Alliance for Preventing Sexual Misconduct to proactively address the problem of sexual exploitation and abuse among development organizations. She co-led the working group that revised provisions for USAID grants and contracts to clarify that the employee codes of implementing partners must comply with international standards on sexual exploitation and abuse.
"The nature of USAID's work can be challenging as the world is constantly facing new crises," said Pascocello. "It has been an honor to be in a position to have an impact on issues such as global health, climate change, women's empowerment, and preventing and addressing sexual exploitation and abuse in USAID programs."
Under her leadership, USAID's general counsel office received the Bar Association of the District of Columbia's Belfiore Quality of Life Award in 2015 and the American Bar Association's Hodson Award for public service in 2016. Pascocello received a Distinguished Presidential Rank Award in 2015 and a Meritorious Presidential Rank Award in 2010.
"I helped build a top-flight and diverse legal team that advances USAID's critical development and humanitarian assistance work," Pascocello said. "I am incredibly proud to have served at USAID, and I cannot imagine a more rewarding and fulfilling career. I've been able to help forward USAID's mission of advancing a free, peaceful, and prosperous world and work with the agency's exceptionally dedicated professionals in Washington and at USAID missions."
Recognizing the knowledge gap in terms of legal training and scholarship in the field of international development law, Pascocello, with USAID's support, accepted a position in 2019 as visiting professor and distinguished development diplomat in residence at Georgetown University Law Center's O'Neill Institute for National & Global Health Law. There she established the Law of International Development Initiative, a hub for scholars, practitioners, and policymakers to craft solutions to pressing international development issues and to mentor and train the next generations of development law leaders.
"As an alumna of Georgetown University Law Center, the center's motto of 'Law is but the means, justice is the end' — the importance of service to others — has stayed with me throughout my legal career," Pascocello said.
Pascocello began her career in private practice in 1990 as an associate at the New York City-based firm Curtis, Mallet-Prevost, Colt & Mosle LLP. Next she joined the D.C.-based firm Dechert, Price & Rhoads LLP as an associate in its Latin American corporate/securities practice group. Between 1995 and 2000, she worked at the U.S. Securities and Exchange Commission, where she served as senior counsel in the Office of International Affairs and then senior counsel in the Office of Investment Company Regulation, Division of Investment Management.

Pascocello started her career at USAID in December 2000 as an attorney advisor for three years. From 2003 to 2012 she worked as assistant general counsel for the Bureaus of Economic Growth, Education, and Environment; Global Health; and Resilience and Food Security. In that capacity, she supervised nine lawyers who provided legal advice and counsel to USAID technical bureaus.
In addition to her leadership in the legal world, Pascocello has served on the board of directors of Arlington Independent Media and the Alzheimer's Association of the National Capital Area. Currently she is an advisory board member of the American Heart Association's Lawyers Have Heart event, the Georgetown Law's Alumni Board, and the Virginia Hospital Center's Women's Health Circle.
The Rosenberg Award was established in honor of Beatrice "Bea" Rosenberg, who dedicated 35 years of her career to government service and performed with distinction at the U.S. Department of Justice and the U.S. Equal Employment Opportunity Commission. She also served on the Board on Professional Responsibility.