Remembering Karen Hastie Williams, Legal Trailblazer Who Opened Doors for Many
July 27, 2021
The D.C. Bar joins the legal community in mourning the loss of Karen Hastie Williams, who passed away at age 76 earlier this month, leaving behind a legacy of shattered glass ceilings and generations of women and African American attorneys inspired by her trailblazing career.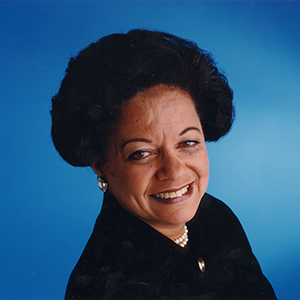 Hastie Williams was not only the first African American woman to clerk for the U.S. Supreme Court, but also the first African American and first female partner at Crowell & Moring LLP. Her history-making career serves as both a reminder of the racial and gender-based barriers that still exist in the law and as a model for those who persist in overcoming them.
Hastie Williams was the daughter of William H. Hastie, the first African American federal district court judge, the first African American federal appellate judge, and the first African American governor of the U.S. Virgin Islands.
Following in her father's pioneering footsteps, Hastie Williams began her legal career after she graduated in 1973 from Catholic University's law school. Next she clerked for Judge Spottswood W. Robinson III, the first African American to serve on the U.S. Court of Appeals for the District of Columbia Circuit, the first African American appointed to the D.C. Court of Appeals, and the first African American chief judge of that court.
Hastie Williams went on to set records herself by clerking for her godfather, Justice Thurgood Marshall, the first African American U.S. Supreme Court justice. At the NAACP Legal Defense Fund, Marshall and Hastie had worked together on the landmark case Brown v. Board of Education.
After her clerkships, Hastie Williams continued to serve in public roles, including as chief counsel to the U.S. Senate Committee on the Budget and as head of the Office of Federal Procurement Policy at the U.S. Office of Management and Budget under President Jimmy Carter. She was appointed by President George W. Bush as a public life member of the Internal Revenue Service Oversight Board.
Her ascent to partnership at Crowell & Moring was swift, becoming the firm's first African American and first female partner in 1982, just a year after joining the firm. She spent 30 years with the firm's government contracts group and was a strong advocate of its pro bono program.
In the private sector Hastie Williams served on the boards of numerous institutions, including SunTrust Banks, Fannie Mae, Crestar Bank, Chubb Limited, Gannett Co. Inc., Amherst College, and Bates College, her alma mater. She served on the board of the NAACP Legal Defense and Educational Fund and chaired its development committee. In addition, Hastie Williams was on the board of directors of the Lawyers' Committee for Civil Rights Under Law and chaired the ABA Membership Committee and Section of Public Contract Law.
The long list of accomplishments fails to capture the impact Hastie Williams had on her colleagues and peers. In a 2006 interview with the ABA, she described the many offers she received to join the boards of directors of various organizations but was unable to accept on account of her preexisting commitments. She kept a directory in the bottom drawer of her desk listing qualified women and African Americans to suggest in her place.
In that interview, Hastie Williams also described the thematic touchstones of her life: "I'd say service has always been an important part of my life. Giving back to the community. I think doing the best job that I can at any given task. Opening doors for others where I have the opportunity to do so and defending and standing up for African Americans and women in particular when they are being discriminated against by institutions or individuals."
Crowell & Moring partner and former D.C. Bar president Susan Hoffman counts herself among the beneficiaries of Hastie Williams's efforts. Hastie Williams had been serving on Crowell & Moring's Public Service Committee, the group responsible for the creation of the firm's public service counsel, when Hoffman, six months pregnant at the time, applied. "I feel that I owe my position to her advocacy on the Public Service Committee," Hoffman says.
Hoffman recalls Hastie Williams as an impeccably dressed woman of poise, who was both thoughtful and effective. She says that at the time many female attorneys thought finding success required a tough, hard-charging attitude that fit the male mold, but Hastie Williams offered an appealing alternative. "Karen was an example and, particularly for me, a role model of someone who succeeded while being gracious, kind, and generous," Hoffman says.
Retired D.C. Superior Court Magistrate Judge Joan Goldfrank also credits Hastie Williams as a mentor and career advocate. Hastie Williams served a term on the District's Board on Professional Responsibility and sat on the hiring committee for the executive attorney position, which Goldfrank held from 1985 until 1994. "She wanted me to succeed, and I didn't get the sense that it was just for the sake of the institution, but she saw this young female attorney and she wanted to help," Goldfrank says.
As a mentor, Hastie Williams provided her reasoning behind the care she gave to her appearance and expression. "She said, Rremember, everybody's looking at you. You're in a fishbowl.' And she was right," says Goldfrank.
At the memorial service held for Hastie Williams this past Saturday at St. John's Episcopal Church in Black Lives Matter Plaza, Hoffman learned that Hastie Williams had served for three terms on the governing board of the National Cathedral School for Girls, and how during her last term she was chair of the search committee for the program's first female head and helped develop the Girls Cathedral Choir.
Hastie Williams is survived by her husband of 53 years, Reverend Dr. Wesley Samuel Williams Jr., and their three adult children. In lieu of flowers her family has asked that donations be made to the NAACP Legal Defense Fund.