Judge Theodore Newman, First Black Chief Judge of D.C. Court of Appeals, Passes Away
January 12, 2023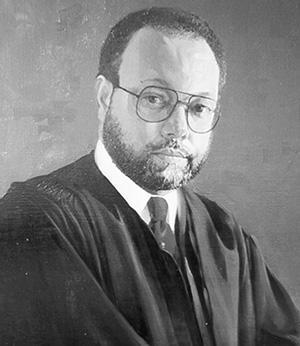 Judge Theodore R. Newman Jr., the first Black chief judge of the D.C. Court of Appeals and the first Black jurist nationally to head a state-level court system, died on January 6 of a heart attack. He was 88.
Newman's judicial career began in 1970, when he was appointed associate judge on the D.C. Superior Court by President Richard M. Nixon. Six years later, President Gerald Ford named Newman to the D.C. Court of Appeals, where he was quickly promoted from associate judge to chief judge, serving two terms from 1976 to 1984.
His tenure was marked with some controversy, including opposition by fellow judges when he applied for a second term as chief judge in 1980. Instead of seeking a third term in 1984, Newman returned to his position as associate judge, took senior status in 1991, and remained on the bench until his retirement in 2016.
Professor Angela Davis of American University Washington College of Law, who clerked for Judge Newman from 1981 to 1982, remembers him as "larger than life … brilliant and incredibly knowledgeable about every aspect of the law."
"He had the highest standard of excellence and expected his clerks and the lawyers who appeared before him to rise to that standard. Judge Newman's strong sense of what was right and just, along with his brilliance and courage, made him so effective as a jurist," Davis says.
"[T]he one issue that stands out from Judge Newman's jurisprudence for me was his strong belief that prosecutors should be held accountable for misconduct. I don't think it's a coincidence that my legal scholarship has always focused on prosecutorial power and accountability. I thank him for that," she adds. Davis says Newman also showed her the importance of working hard and always being prepared.
Current D.C. Court of Appeals Chief Judge Anna Blackburne-Rigsby recalls Judge Newman as a "brilliant, thoughtful, and passionate jurist."
"He thought deeply, but more importantly, he cared deeply about the people and the issues that came before our court. He had a great wit, and you never had to guess what he was thinking because he would tell you!"
In addition to his judicial duties, Newman taught at Harvard Law School, Howard University School of Law, and Georgetown University Law Center. He was a fellow of the American Bar Foundation. Newman served as president of the National Center for State Courts and as chair of the Judicial Council of the National Bar Association, which, in 1984, honored him with the C. Francis Stradford Award. In 1988 Newman was recipient of the Judicial Council's William H. Hastie Award.
Born on July 5, 1934, in Birmingham, Alabama, Judge Newman grew up in Tuskegee, where his mother was schoolteacher and his father a Methodist minister. Newman attended Mount Herman School for Boys (now Northfield Mount Hermon School), a private boarding school in Gill, Massachusetts, graduating in 1951. Four years later, he earned a bachelor's degree in philosophy from Brown University, and in 1958 a juris doctor degree from Harvard Law School.
After serving as a judge advocate for the U.S. Air Force in France from 1958 to 1961, Judge Newman moved to Washington, D.C., became involved with the Republican Party, and worked briefly in the U.S. Department of Justice's Civil Rights Division. Entering private practice in 1962, he was an associate at Houston, Bryant & Gardner and then Pratt, Bowers and Newman, where he became partner.
Newman is survived by Eulla Wilson, his companion of 30 years.