By David O'Boyle
October 15, 2017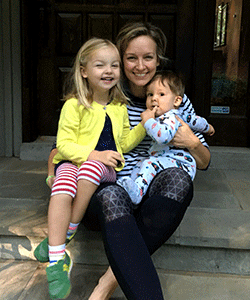 With members in all 50 states and more than 80 countries, the D.C. Bar is beginning a regular feature to profile the people who make up our community. Read about your peers, their lives, and their work around the world.
Last summer, Kate McKnight, a partner at Baker & Hostetler LLP, stood before a judge at the Virginia Supreme Court, arguing her client's side in a redistricting case while she was seven months pregnant.
"During oral argument, there came a point where it sounded like I was breathless," says McKnight. "But it was just because I had this baby pressing on my lungs. I was thinking, I hope they don't think I'm nervous or lack confidence in my argument.'"
McKnight, now a mother of two, says one of her biggest challenges is being both a good parent and a good lawyer. It's all about maintaining balance, she says, speaking to Washington Lawyer over the phone for this interview while watching her daughter at a playground.
"I try not to get too far ahead of myself and focus on what people need now, including my daughter who's giving me a stink face from across the playground right now," she says.
McKnight says she tries to focus on spending quality time with her family, be it just reading to her children in their living room. "It doesn't have to be an expensive trip or toy," she says.
And the balancing act continues at work. "There's a lot on everyone's plate. You want to be reliable and ensure people's expectations are met. If you're not able to be in the office until after you drop off a child, your colleagues know that you will be in the office later, they know how to contact you if needed, and they know you'll get the work done. It breeds comfort and trust," McKnight says.
At Baker & Hostetler, McKnight's practice is focused on commercial litigation and election law, litigating cases before federal and state trial courts as well as appellate courts. McKnight says that when she became an associate at the firm, she knew she wanted to be a litigator, although she was still uncertain about what practice area she wanted to join.
To help her define her interests, she signed on to any litigation project she could, learning from colleagues about how to run a litigation, manage a case, and staff a team. These lessons helped her build the skills and knowledge she needed to become a successful litigator, McKnight says.
"When I've heard about awful law firm experiences, it's often due to poor management," says McKnight. "You're not trained in management in law school. You're just trained to be intense."
A graduate of Brown University, it seemed McKnight was destined for a career in law. After finishing her undergraduate studies in 2000, McKnight volunteered with the Zimbabwe Women Lawyers Association in Harare. There, she worked with women lawyers to research and lobby for sentencing guidelines for judges in cases involving murdered women.
"The sentencing was all over the map," says McKnight. "If it was a relative who murdered a woman, sometimes they were not sentenced for any time. If a stranger murdered a woman, sometimes they would be sentenced to life."
From that volunteer work McKnight saw that a legal education would help her to not only further policy goals, but also to help people.
After a stint at the National Democratic Institute for International Affairs, McKnight attended the University of Minnesota Law School and graduated in 2008. At a time when hiring within the legal job market was plummeting, McKnight says she was fortunate to be offered a clerkship with Judge Claude M. Hilton of the U.S. District Court for the Eastern District of Virginia.
During her clerkship, McKnight watched and learned from not only Judge Hilton, but also the various attorneys who had cases before him. "It was so helpful to see the variety of lawyering styles in the courtroom and in pleadings," says McKnight. "I also saw that different styles work for different people, and that lawyers don't need to have one particular style—you can pick what suits you best."
McKnight witnessed a wide variety of litigators argue before the judge and realized that even the most experienced lawyers get nervous in the courtroom. "It was very humanizing," says McKnight. "Here I am, this fresh grad from law school, and I was reminded that we're all human. I learned lessons about what really matters in advocacy, and it bolstered my confidence."
At Baker & Hostetler, McKnight has developed a specialty in election law and has argued before the Virginia Supreme Court and in federal courts on redistricting cases. "It's a fascinating area of law, and guidance from the courts is not always clear," she says. "It's an unusual area of law in which you feel a very direct impact of a Supreme Court opinion."
As a partner in litigation, McKnight says one of her challenges is taking the lead in developing and then standing behind arguments for her clients. "There came a point where I was no longer an associate behind a desk doing research, and I became the face of my clients' arguments. It was an exciting step, but you and your team have to do the hard work required to be able to stand up in such an adversarial effort; you play a mental game of reminding yourself that you've done everything right and that you're standing for your client."
Ultimately, McKnight says she finds the most satisfaction in representing her clients, taking on their anxieties, and managing their legal issues so they don't have to. "I've always liked the feeling of giving comfort to a client. There's something so satisfying about putting a client's mind at ease and showing them a way through the lawsuit."