D.C. Superior Court Welcomes Six New Judges
January 18, 2023
D.C. Superior Court Chief Judge Anita Josey-Herring swore in six new associate judges on January 17, a welcome development amid growing calls from city officials and those in the legal community for Congress to address the vacancy crisis at the court. With the new additions, the court still has seven unfilled seats, with an anticipated three more vacancies by mid-March.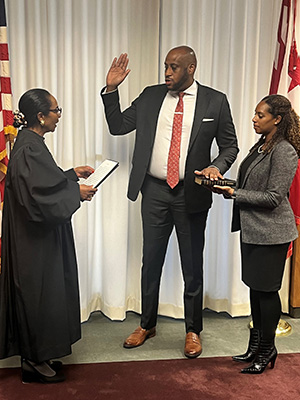 "I'm excited to have all the judges that we've got," Judge Josey-Herring said. "I want to thank everybody for reaching out to people on Capitol Hill to indicate that we were in dire need of judges. We still have other positions that need to be filled. So, we look forward to welcoming other judges."
The new judges are Errol Arthur, Kendra Briggs, Laura Crane, Leslie Meek, Carl "Zeke" Ross (pictured in first photo), and Veronica Sanchez (second photo). Judge Ross, who served as counsel to the U.S. House of Representatives Committee on Ethics, had been waiting two years to be confirmed. He was initially nominated in 2019 by President Trump and then renominated by President Joe Biden two years later.
"While it was a long wait, I feel beyond blessed to actually be here and be able to serve the residents of the District of Columbia," Judge Ross said. "I'm sure it will be worth the wait."

Judge Crane, former deputy chief in the U.S. Attorney's Office for the District of Columbia's Violent Crimes and Narcotics Trafficking Section, recalled appearing before Judge Josey-Herring and admiring the chief judge's patience, giving attorneys full opportunities to argue their positions.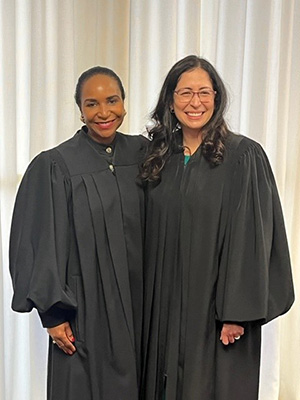 "She really takes her role extremely seriously," Crane said. "So, it's a complete honor to practice in this courthouse, where I first started as a prosecutor nine years ago. It's really special to be back here to serve the community."

Two other judges previously served in the U.S. Attorney's Office in the District: Judge Sanchez was chief of the Major Crimes Section, while Judge Briggs was a senior assistant U.S. attorney in the Fraud and Public Corruption Section.

Judge Meek is a former administrative law judge with the District of Columbia Office of Administrative Hearings, and Judge Arthur previously served as magistrate judge in the Superior Court's Criminal Division, Domestic Violence Division, and Family Court.
The six new associate judges — five of whom are people of color and four are women — illustrate the expanding diversity of the bench, which Judge Josey-Herring said is significant.
"Every study that you can think of shows that when you have diverse people at the table — that could be race, gender, ethnicity, and other things — you're going to get better results," she said. "In our multicultural society, it is key that people see individuals [on] the bench who look like them, so that they can have confidence in the [judicial] system."