Legal Happenings
Music Copyrights and Blurred Lines: A Look at Recent Infringement Cases
November 21, 2022
On November 15 the D.C. Bar presented the CLE course "Forensic Musicology: The 'Blurred Lines' Case and Its Aftermath," examining copyright infringement cases involving some of pop music's biggest hits. Presenters Don Franzen, an entertainment lawyer and partner at Funsten & Franzen, and Judith Finell, a noted musicologist and founder of Judith Finell MusicServices Inc., talked about substantial similarities in musical works and the role of professional musicologists in detecting inspiration versus copyright violation.
Finell was the testifying expert for the Marvin Gaye family in Williams v. Gaye, a copyright infringement case against Robin Thicke over his 2013 best-selling single "Blurred Lines," featuring Clifford Joseph Harris Jr. (popularly known as T.I.) and Pharrell Williams. In 2018 a three-judge Ninth Circuit panel affirmed in part a California district court's ruling that Thicke's song infringed on copyrights to Gaye's 1977 classic "Got to Give It Up."
Gaye's estate was awarded more than $3 million in actual damages, profits of $1.7 million against Thicke and $357,630.96 against Williams and his More Water From Nazareth Publishing company, and a running royalty of 50 percent of future songwriter and publishing revenues received by Williams, Thicke, and T.I., who contributed a rap verse.
In her dissent, Judge Jacqueline Nguyen issued a strong statement: "The majority allows the Gayes to accomplish what no one has before: copyright a musical style." Nguyen added that "the majority establishes a dangerous precedent that strikes a devastating blow to future musicians and composers everywhere."
Finding Substantial Similarities
The district court jury trial in the "Blurred Lines" case lasted seven days, plus two days of deliberation. Finell called on her intense comparative listening skills, music transcribing and transposing acumen, and knowledge of spectrogram use in detecting songs that have been digitally sampled.
Upon her initial analysis, Finell noted that "they weren't identical musical works, but they did contain many different specific musical similarities. And they were a combination of similarities." She reported approximately 16 similarities.
"About eight of those were removed because they were not represented in [Gaye's] lead sheet," Finell said. The U.S. Copyright Office requires a "deposit copy" when applying for copyright protection, and the plaintiffs argued that the lead sheet was a skeletal version of Gaye's song that differed from the sound recording.
During trial, the judge allowed the jury to listen to "Blurred Lines" in the courtroom but not the full recording of "Got to Give It Up." The judge asked the jury to compare "Blurred Lines" to Gaye's lead sheet, which became problematic for the defense. After a redirection, Finell was allowed to present a recorded modified version of Gaye's song to illustrate the argument of copyright infringement.
"The big challenge was that the jury was not going to be able to take recordings into the jury room to make their decision or to recall what had been said or what they had heard," Finell said. "And every night at the end of that particular day's trial, the judge would say, 'Please do not go home and listen to Marvin Gaye's song.'"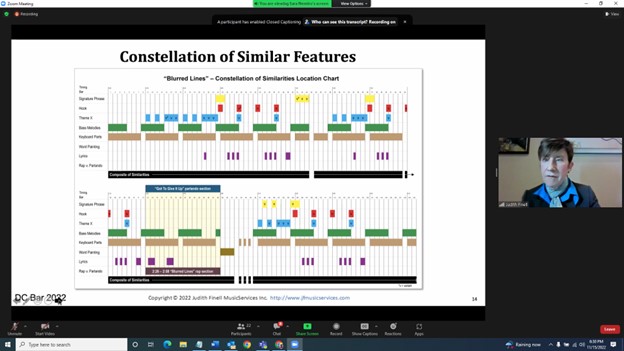 To help jurors retain the information, Finell created a visual roadmap, which she called a "Constellation of Similar Features," comparing both songs. The jury agreed with Finell's testimony that a collection of "signature phrases, hooks … bass melodies, keyboard parts, [and] word painting" were substantially similar.
Franzen noted that in the Ninth Circuit decision, "the majority of the [judge] panel emphasized that it was not trying to make a sweeping proposition of law that would govern future cases. It emphasized that it was acting as an appellate court."
Franzen theorized, however, that "as [similar] cases evolve, Judge Nguyen may have been somewhat prophetic in her sound of the law."
Impact on Other Cases
The "Blurred Lines" decision has had an impact on other major copyright infringement cases, Franzen and Finell said, citing Skidmore v. Led Zeppelin (2018) and Gray v. Perry (2020) as prime examples.
In the former case, Michael Skidmore, co-trustee of Spirit band member Randy Wolfe's estate, argued that a four-bar music passage of Led Zeppelin's 1971 hit "Stairway to Heaven" infringed upon parts of Spirit's 1968 song "Taurus." A Los Angeles jury found that there was no copyright infringement.
When the case reached the Ninth Circuit, a three-judge panel voted to reverse the district court ruling. The panel stated that the trial court judge had failed to instruct the jury that original "selection and arrangement" of otherwise nonprotectable elements would qualify for copyright protection, Franzen explained. The plaintiff had simply described a "combination" of five "random," unpredictable elements without explaining the "particular way" in which the musical elements formed a "holistic musical design," according to Franzen.
"Then in an extraordinary turn of events, petition for rehearing en banc was granted, and the whole case ended up being reviewed by the entire Ninth Circuit," he said.
The court concluded that a selection and arrangement copyright is infringed only where the works share, "in substantial amounts," the "particular" or same combination of unprotectable elements. Franzen argued that the decision misconstrues what the copyright law means by a "combination," "compilation," and "selection and arrangement of unprotectable elements."
"[The] Skidmore decision represents something of a retrenchment from the high watermark of the selection, arrangement, or combination of elements that were represented in Swirsky v. Carey and 'Blurred Lines,'" Franzen said.
Swirsky involved Seth Swirsky and Warryn Campbell, the songwriters behind Xscape's 1998 R&B hit "One of Those Love Songs." In 2004 they sued Mariah Carey, James Harris, and Terry Lewis for copyright infringement regarding the chorus of Carey's 1999 song "Thank God I Found You."
The case was initially dismissed on summary judgment. On appeal, the Ninth Circuit decided in favor of the plaintiffs, noting that "music is comprised of a large array of elements, some combination of which is protectable by copyright."
In Gray v. Perry, Marcus Gray argued that Katy Perry's 2013 song "Dark Horse" infringed upon the signature eight-note ostinato music from "Joyful Noise," a 2008 gospel song he wrote. The jury ruled in favor of Gray.
In a post-trial motion, Perry's attorney argued that the plaintiff was "trying to own basic building blocks of music, the alphabet of music that should be available to anyone."
Granting the motion to set aside the verdict, Judge Christina Synder of the U.S. District Court for the Central District of California concluded that "there was fundamentally [a] lack of originality of the contested portion of songs, and that there was nothing particularly unique or rare in the [musical] combination appearing in the two songs," said Franzen. "She basically overturned the jury verdict."
The Ninth Circuit affirmed Judge Snyder's decision. "The circuit ruled that although no individual musical component of 'Joyful Noise' is copyrightable, [they] still ha[d] to consider whether it's protectable as a combination of elements. So, they acknowledged that concept in the law," Franzen said. "But they go on to say that [the] 'Dark Horse' ostinato essentially just consists of what they called a 'manifestly conventional arrangement of musical building blocks.' This combination, the court said, is unoriginal because it's nothing more than a two-note snippet of a descending minor scale with certain notes repeated."
"I think it's safe to say at the moment that the Perry case, along with Skidmore, may signal something of a retrenchment by the Ninth Circuit on the high watermark Williams v. Gaye," Franzen concluded.