Profiles
Michelle Bradford Extends Her Prosecutorial Expertise to White Collar Defense
October 25, 2022
While attending Georgetown University Law Center, Bronx, New York, native Michelle Bradford enjoyed the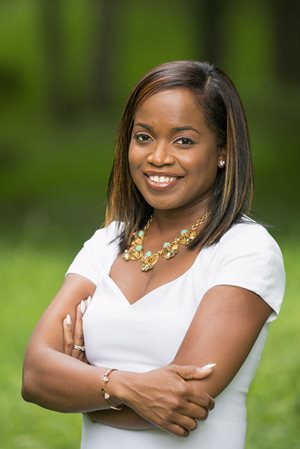 feel of a somewhat smaller city. After earning her JD in 2000 and practicing at a large firm in New York for two years, she returned to Washington, D.C., for a federal clerkship and has lived here ever since.
Bradford served as assistant U.S. attorney (AUSA) in the U.S. Attorney's Office for the District of Columbia from 2006 to 2018 before returning to private practice. In 2020 she joined Barnes & Thornburg LLP as a partner, focusing on white collar and criminal defense.
"I love this area of the law because, for the most part, I get to use my skills to help companies and individuals during challenging times," she says. "Despite what some may think, white collar and criminal defense can be very challenging but exciting work, and often it is the lawyer's ability to think outside of the box that can lead to a great result. It's certainly not for everyone."
What are some of your most memorable moments as a former prosecutor?
I loved being an AUSA. My most memorable moments all involve just being in the courthouse, whether it was being in trial myself or watching others in trial. I just love watching attorneys present their cases. It is an amazing feeling when it's you standing before a jury on behalf of the United States.
For aspiring young attorneys, can you share what it's like to be a partner at a large firm?
I think being a partner is just as challenging as being a more junior lawyer, except now I also have to be more active in the area of business development, which for me was challenging because it was not something I was used to doing in the government. I think partners work harder, but in different ways than associates do.
What are some pros and cons of being a partner?
Definitely one big pro of being a partner is being able, for the most part, to control my schedule. I can schedule meetings/calls for times I am available, whereas as an associate I always felt I had to be available. I think one of the cons for me has been that I feel like I work more, either doing substantive client work or preparing for/attending business development opportunities.
How do you stay inspired in your practice?
My clients really inspire me to get the best outcome for them. I sincerely enjoy assisting clients in navigating the waters of government investigations and, for criminal defendants, helping them resolve their cases in a way that leaves them feeling valued. Anytime I feel like I don't want to deal with work, I remember there is someone who needs my help, and it makes me get out of bed!
What advice would you give to young attorneys who want a career in litigation, specifically jury trials?
I would say get as much experience on your feet as possible. If you're in private practice, that could mean taking on pro bono cases or asking to second-chair a trial. Get comfortable feeling uncomfortable — in trial work there are always unexpected things that happen, and you just have to roll with the punches. It doesn't get easier, but you get better at dealing with the unexpected.
Let's say you lost a case, one that you felt you would win. How do you motivate yourself to keep going?
I have lost a case that I thought I would win, and it felt devastating at the time. But I had to remind myself that it was my job to present the evidence that I had to the best of my ability, and it is up to the judge/jury to reach a conclusion. Sometimes that conclusion isn't what you want it to be, but the case still deserved to be tried. And if you've done your best, that is all you can control.
You serve as investigative counsel to outside companies, specifically in the area of health care fraud. Has there been an increase in activity in this area since the pandemic?
Absolutely. The pandemic resulted in many health care providers shifting to telemedicine, and we have seen an increased focus by [the Department of Justice] into fraud involving telemedicine. DOJ has also been targeting individuals and companies who received PPP loans. I think we'll continue to see these types of prosecutions for the indefinite future.
If you weren't practicing law, what would be your profession?
I think I'd be working in the sports area (as a representative or agent) or in marketing. I like working with people who are creative and helping them share their gifts with the world. I also enjoy talking to people and selling people on ideas/things, so a career in marketing sounds like fun — and I actually worked at a marketing agency as a secretary for a year during college.
How has your D.C. Bar membership helped you in your career?
My D.C. Bar membership has helped me stay connected to other attorneys in my legal field as well as my vicinity. It's great to feel connected to such a large group of attorneys. I also love that I can find new pro bono opportunities, classes, and networking opportunities through the D.C. Bar website.
What are some fun hobbies that people might be surprised to learn that you enjoy?
Gardening. I actually enjoy digging up the dirt and planting flowers. It gives me immediate gratification to transform a barren area of the garden with flowers/fruits. Most folks who know me would be surprised to hear that as I'm definitely not an outdoorsy type in general. But I find gardening relaxing.