Profiles
Kenya Davis: Advancing Corporate Social Responsibility
March 25, 2022
Kenya Davis knew at a young age that she wanted to pursue justice. "People who grew up in Atlanta will tell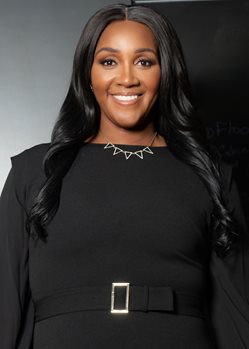 you that Dr. King, Ralph Abernathy, Maynard Jackson, Hosea Williams, Andrew Young . . . all loom very large in our lives. The idea of being a part of the civil rights movement or working for justice was something that was imparted to me at a very early age," she says.
Davis fights against injustice as a partner at Boies Schiller Flexner LLP, where she focuses on corporate investigations and compliance, particularly where it involves environmental, social, and governance (ESG) issues, and also assists in the firm's sex trafficking and sexual abuse cases. Her work at the intersection of corporate wrongdoing and human exploitation is an apt culmination of decades of experience in both areas.
"The compliance work I do now brings [my experiences] all together. We are going in and helping companies really address the S and G of ESG practice. We will work to try to prevent them from becoming the next news story because there is so much attention, not just from regulatory and enforcement agencies, but also media and regular, everyday people who are concerned about the issues of labor trafficking, sexual abuse, and racial inequities," Davis says. "Increasingly, these are issues that are driving consumers, so it makes sense that it's getting more attention now. And for me, as a practitioner, it's a way to bring both of my interests together.
A graduate of Emory University and Columbia Law School, Davis began her legal career in 2002 in the New York office of Debevoise & Plimpton LLP, specializing in internal fraud investigations and civil litigation involving the Foreign Corrupt Practices Act. Davis also assisted in the Amador v. Andrews case involving 13 inmates of New York state prisons who alleged sexual assault, abuse, and harassment while incarcerated.
In 2009 Davis started her 13-year tenure with the U.S. Attorney's Office for the District of Columbia, serving in various roles including as senior trial attorney with the Child Exploitation and Human Trafficking Taskforce, co-chair of the Human Trafficking Task Force, and human trafficking coordinator.
Davis joined Boies Schiller in February, saying the firm's values helped facilitate her return to the private sector. Davis says Boies Schiller's representation of Virginia Giuffre in her suit against Prince Andrew for sexual abuse associated with the trafficking of Jeffrey Epstein impressed upon her the courage and tenacity of its attorneys.
Davis was also interested in taking the opportunity to address aspects of trafficking that fall outside of the jurisdictions in which she has previously practiced. "For the goods that we all enjoy and that we all have, for the cellphones in our pockets and the cars that we drive, there are allegations of labor trafficking happening along those supply chains in cases that come before the Supreme Court and other federal courts," Davis says. "The response has been that the justices care about the issue, but no one has been able to pinpoint the right statute — [the] Alien Tort Claims Act or Trafficking Victims Protection Act — to apply or convince the Court, in the case of the cobalt litigation, to show the connection is there between the mines, third-party suppliers, and the American-held corporation."
"But I think the tide is turning. Companies do not want to have the risk of even being in the paper about it. There's also more and more regulation," adds Davis, citing the Uyghur Forced Labor Prevention Act, a bill restricting the import of goods that may have been produced using forced labor in the Xinjiang region of China, as an example of new legislation on the issue. President Biden signed the act into law in December 2021.
As an internal investigator, Davis draws upon tools she developed interacting with survivors of abuse. Human trafficking, both sex and labor, involves the exercise of power and control by the abuser over the abused, Davis says. Her experience informs her approach to conducting investigations into corporate practices by acknowledging this fact and building rapport with potentially traumatized individuals. Victims of abuse may not even recognize their situation as abusive, she says, and many blame themselves. Davis says her trauma-informed approach often allows her to uncover uncomfortable truths that a more cursory examination could easily overlook.
"Excellent lawyers conduct internal investigations," Davis says. "You've got to go out to the crime scene, you've got to meet the grandmother, you've got to meet the people in the community who can tell you what was going on when the victims can't necessarily speak for themselves."
It's a skill set Davis has cultivated throughout her practice and continues to use. "When I conduct an investigation, it's a real investigation. It's worker-driven, survivor-driven, and community-driven. A cursory review is not our brand. We are looking to impact real change."
Collaboration with nongovernmental organizations (NGOs) is one way that Davis engages the community in her efforts. "NGOs and academics have been on the ground in these communities around the world trying to address these issues. So, they have the relationships to get to the actual people who can tell us what happened and what is happening," she says. In situations in which workers may not trust an investigator, they may be more willing to engage with an NGO intermediary.
Davis sees opportunities for companies that take ESG seriously. Apart from simply avoiding the negative press and legal consequences of unethical or illegal conduct, Davis says companies that make social responsibility a priority have a lot to gain in the current marketplace by attracting "value-driven consumers to their product."
Davis hopes that her work broadens the perspectives of colleagues and clients. As a Black woman, she says that the social justice concerns that those around her can put down at the end of the day follow her home. She calls upon peers and clients to approach issues from multiple perspectives, a technique that is both the product of her love of debate and her own intersectional experience. "I have the privilege of being a woman of color, so I've got to look at it from all sides. I don't have a choice," she says. "It affords me a genuine competence to handle a variety of issues."
Davis says that she has been fortunate in her career growth. "I came along at a good time, when the type of work that I do is marketable work," she says. She also notes that it's a bad time for the unethical conduct of business. "You can't make a product in a place that's going to be terrible for human beings today and expect that not one person is going to get a phone with a camera in that factory and put you on blast. It pays to have your house in order."