Profiles
K. Lawson Wellington: Bringing Zealous Advocacy to DUI Defense
April 29, 2022
K. Lawson Wellington is a staple in the D.C. traffic law community. A graduate of Howard University School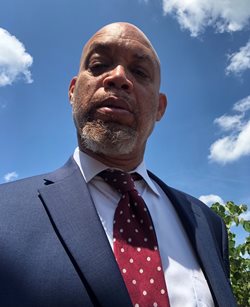 of Law, he established the Law Office of K. Lawson Wellington in 1996, dedicated to DUI, personal injury, family law, and criminal defense in the District of Columbia and Maryland.
Previously, Wellington was a partner at Williams & Wellington LLP, a general practice law firm in Washington, D.C., where he represented clients in criminal and civil cases. Wellington not only has vast trial experience, but he also advises clients in alternate dispute resolution matters. No matter the case, he is known as a fierce advocate for his clients' rights.
Did you grow up in the Washington, D.C., area?
I am from Jamaica. I lived in New York for a year and then did undergraduate studies and law school at Howard University.
What led you to practice in the District of Columbia?
[After I] finished at Howard, I got my start working with another Howard Law alum, Anna Williams. I took the Maryland Bar and waived into D.C., effectively gaining admission to both bars with one exam sitting — which was what other practitioners and mentors recommended. You heard during 3L year that was the approach to take.
Traffic law has recently become a hot practice area. As someone who has practiced since the late '90s, what changes have you seen?
I'd say DUI has become, to use your words, "a hot practice area" over the last decade or so. Previously, it was lumped or categorized as traffic law (and still is for all practical purposes, as the offenses are prosecuted by the same criminal division of the Office of the Attorney General). But [it] has since developed into something of a niche practice area, largely because a DUI arrest or conviction can have a direct negative impact on an individual's driving privileges — it can lead to both suspension and/or revocation. Drivers trying to avoid this outcome are more inclined to engage legal representation.
How has the Black Lives Matter movement in regard to traffic stops affected your practice?
My first instinct is, it hasn't. Officers are doing [fewer] arrests. Traffic numbers are down, really down, more so during the COVID pandemic. It is unclear whether that is a direct function of Black Lives Matter protests as [they] relate to deaths of Black males and people of color. Could there be a directive from upper command? I can't say. I do believe, though, that the pervasive use of body-worn cameras at [Metropolitan Police Department] and nearby Maryland counties has curbed certain bad actors' behavior and has had a chilling effect on rogue, egregious policing.
What are the most common mistakes that motorists make behind the wheel?
Sleeping in their cars after they consume alcohol or drugs. So many clients say, "but I wasn't driving," except that D.C. DUI laws say you cannot be "in physical control" of the vehicle. Many clients end up with a DUI arrest sitting or sleeping behind the wheel with the engine on, maybe using the air conditioner or heat, or simply listening to music or charging their cell phone. Also, many people do not know that they have the absolute right to refuse the standard field sobriety tests.
Would you encourage other attorneys to enter this area of practice? If so, what advice would you give?
Yes, I would. I'd say, first thing, build a website and raise your online profile. It's marketing and reputation-driven with elements such as Google and the like playing a huge role. Start today!