Issues & Trends
Facing Inconsistent Government Regulation, Cannabis Industry Aims for Doable Reforms
June 14, 2022
With expanded legalization and growing capital, the cannabis industry is projected to reach $33.6 billion in global sales by 2025, but the uneven policy landscape in the United States continues to pose challenges to businesses, communities, and state and local governments.
At the International Cannabis Bar Association's fifth annual Cannabis Law Institute on June 9–11, attendees discussed the impacts of federal prohibition on the cultivation, sale, and use of marijuana as well as the lack of uniform cannabis regulation in the country. These inconsistent policies put the District of Columbia, for example, in a confusing and sometimes dangerous territory, said D.C. Attorney General Karl Racine, who delivered the keynote address.
Unlike many states, the District cannot have a recreational cannabis marketplace where it can regulate and collect tax, limit toxicity, restrict advertisement from children, and enforce other common sense law practices. "Those kinds of must-haves in a regulatory scheme have been precluded by Congress because [the District] lacks statehood," Racine said.
In response, some businesses have turned to creative ways to getting around the regulatory dilemma by selling other items such as comic books, CDs, T-shirts, and massages, and then "gifting" customers with small amounts of cannabis, prompting owners of medical marijuana dispensaries to call on the D.C. Council to shut down these businesses.
"As a result of that, [we're] also seeing collusion and competition between the medical cannabis space and what would be the legal recreational cannabis space," Racine said.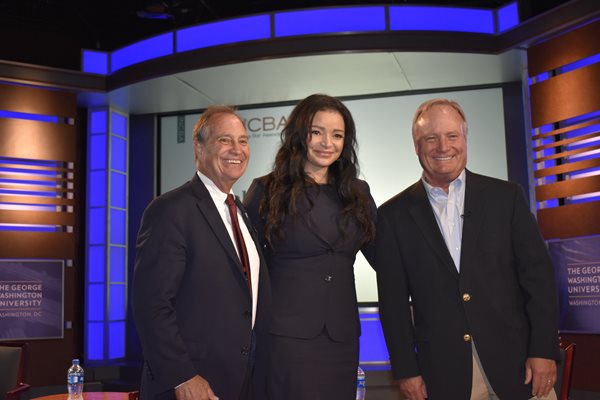 Pictured above from left to right: Ed Perlmutter, Amber Littlejohn, Dave Joyce
Amber Littlejohn, executive director of the Minority Cannabis Business Association, also addressed the issue of competition. Littlejohn said that from her perspective, the timing of full legalization is less important than the establishment of an equitable marketplace. How interstate commerce is ultimately introduced will have important equity impacts, she said, pointing out that an expanded marketplace has the potential to put small businesses at a disadvantage relative to their larger competitors.
"On a competitive level it boils down to the states," she said. "There are some pretty obviously anti-competitive practices going on among large players in cannabis. It would be nice to see somebody paying attention to that," Littlejohn said.
Other event speakers generally conceded that many obstacles remain in the path for Congress to declassify cannabis as a Schedule I substance, but they offered insights into the areas where meaningful advances could be made while building consensus for full legalization.
U.S. Representative Ed Perlmutter of Colorado discussed his introduction in 2019 of the SAFE Banking Act, a bipartisan bill that would eliminate obstacles for cannabis businesses to get equal access to banking services. He was joined by Ohio Representative Dave Joyce, whose background as a prosecutor led him to champion the SAFE Banking Act and other progressive cannabis laws among his conservative colleagues.
Perlmutter has long worked on cannabis-related banking issues. He said that in the early days he was often met with laughter when he raised the issue of cannabis businesses' inability to bank or secure insurance. But with the industry's rapid expansion in recent years, Perlmutter said his colleagues' attitudes have changed. "There are legitimate business issues, legitimate safety issues, and legitimate equity issues to be resolved," he said.
Saphira Galoob, principal and CEO of The Liaison Group, the first and only District-based cannabis lobbying group, described a pragmatic approach to cannabis reform. She said that passage of the SAFE Banking Act is both possible and necessary, but federal declassification of marijuana or the introduction of interstate commerce in cannabis would be unlikely to find success in the immediate future.
"Today, we need to get something done in Congress," she said. "And if we were really being judicious about our energy, we would join together and get SAFE done."
Galoob also advocated for the release of individuals who continue to be incarcerated for cannabis-related offenses, a sentiment that Racine echoed. "We know that when people were getting criminally charged and getting serious [jail] time for these offenses, those heavy sentences fell disproportionately on communities of color," said Racine.
"I think it's important for us to not [only] make that argument as to fairness and social equity in terms of changing the law, but [also] run that argument into the business space, which includes lawyers, to really hold businesses accountable for hiring people who were involved in the criminal justice system because they participated in what was then illegal cannabis dealing," Racine added. "It's also important that we see representation at every level of business, including the boards of directors and positions that involve diversity and inclusion of Black and brown people."