Profiles
Esther Lim: Advancing Diversity With Meaningful Action
March 11, 2022
Throughout much of her 25-year career, Esther H. Lim, an intellectual property partner at Finnegan, Henderson,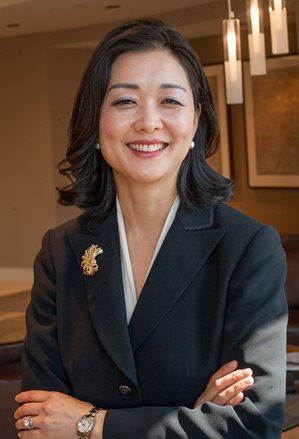 Farabow, Garrett & Dunner, LLP and former D.C. Bar president (2018–2019), has been a tireless advocate of diversity, equity, and inclusion (DEI) initiatives. She has been involved with affinity voluntary bars such as the Asian Pacific American Bar Association of DC (APABA-DC), collaborated with other affinity bar associations of color — locally and nationally — and taught at Howard University School of Law as an adjunct professor since 2003.
"It's been a very meaningful issue for me throughout my career, particularly as someone who lived in this country as an immigrant without speaking any English in the beginning," Lim says.
She continues that advocacy at Finnegan as the firm's first chief diversity and inclusion officer. The D.C. Bar recently spoke with Lim about her new position, what she hopes to achieve in that role, and how equity should always be included in diversity and inclusion efforts.
Explain the role of a chief diversity and inclusion officer (CDIO). I don't recall seeing so many people with this title prior to the racial and social reckoning following George Floyd's death two years ago.
It is a position that existed before George Floyd's death, but it was not nearly as commonplace. Given what has happened in the last two years, both companies and law firms have taken a redoubled look at what more we can do to promote diversity, equity, and inclusion.
One of those efforts has been to appoint, at the highest level of leadership at organizations, a person in charge of thought leadership — someone who can take initiative and a long-term view in promoting DEI efforts, including recruiting, retaining, and promoting diverse talent, which remains a big challenge in the legal profession.
Finnegan has joined that industry-wide effort and movement in creating the first CDIO position as of January 1 this year. I'm very honored and privileged to have been appointed the first partner and CDIO for the firm.
Given that you've been at Finnegan for so much of your legal career, tell me when the firm recognized it needed a CDIO.
It probably was a continuum. Clearly, we recognize the importance of DEI both at our firm and outside the firm. We've supported DEI efforts in a number of different ways at the firm, such as having affinity groups and women-focused groups.
We've collaborated with our clients and external organizations in promoting diversity, for example, by having corporate diversity scholars — summer associates who work with us part of the summer and at a client's legal department for the remainder. We pay for the whole summer.
We have also provided diversity scholarships since 2003. We teach at HBCUs and support many bars of color and affinity bars.
When I started at the firm in the mid-'90s, firms were not talking about diversity. DEI was not even a coined term at that time. We did not have affinity groups. We did not have women's groups. People were not really open about their sexual orientation. At our firm, we've paid a lot of attention in the last two years to racial and social awakening and the challenges that communities of color have faced. George Floyd, Breonna Taylor, Ahmaud Arbery, and the list goes on . . . the anti-Asian hate crimes and the Atlanta murders. We've had large contingents of our workforce impacted through those very tragic events and trends.
So, we have — like many organizations — put a greater emphasis on these questions: How do we do more? How can we do better? How do we better support our workforce? What can we do to contribute? And creating the first CDIO position is an expression of that continuing effort.

What would you like to accomplish during your first five years as CDIO?
One of my priorities is improving the representation of diverse attorneys. We are doing a lot better than the average law firm in terms of representation of women, attorneys of color, LGBTQ attorneys, and other underrepresented segments in the legal profession. But it's still very far from where we should be as a profession. The numbers of women and attorneys of color in the legal profession lag behind significantly.
And so, one of the things we can do as a firm specializing in intellectual property is to fill the pipeline of eligible people who can become IP attorneys — in particular patent attorneys — by encouraging the pursuit of STEM degrees.
A couple of weeks ago, we started Finnegan IP University to do precisely that — reach out to undergraduate and graduate STEM majors and introduce them to careers in IP practice. It's a five-week program. We lecture once a week, Wednesday evenings, virtually. Our inaugural year has generated an outpouring of interest by students all across the country, and even abroad, to learn about IP. For many of the students, this has been the first time they've heard about a career in IP.
It's so important to fill the pipeline early because by the time you get to law school, your undergraduate major is set in stone. If you're a liberal arts major, you have a barrier to entry in specializing in patent law after law school. This issue has come up again and again as I teach "Introduction to Patent Law" at Howard law school, for example. Students come up and say, "Hey, I wish I knew about patent practice when I was an undergrad. I would've completed my biomedical degree instead of switching my major."
Information is key. Knowing what your options are early on can open up possibilities. If you are a first-generation lawyer in your family, you are not going to be surrounded by lawyer friends, lawyer neighbors, and lawyer relatives. You have no idea what the options are in law. But having access to that information early on can be critical in shaping someone's future.
When we talk about diversity and inclusion, equity is too often left out of the conversation. Why do you think that is, and what can we do to rectify it?
Equity is an important part of D&I. For me, it's about how that translates to the day-to-day life of an associate. Do they feel that they have equitable access to projects and opportunities that will help them develop as a lawyer? That goes to one of the key issues that the legal profession is starting to examine more closely — fair and equitable work allocation. How is work distributed equitably among attorneys so that everyone has a fair shot at success? Once you get the first opportunity, it often leads to the next project.
Through those projects, you also develop relationships. And you find mentors, which often opens other doors. And so, equity is more than just numbers. It's about everyone getting equal opportunity to succeed. And firms are looking more intentionally and more closely at how and to whom projects are assigned.
Our firm fosters openness and independence to grow and flexibility in creating one's practice. You can work across groups. We have different mixtures of transactional, litigation, counseling, and licensing work that people pursue in varying quantities. We encourage attorneys to develop a practice that suits their interests, skill sets, and preferences.
We'd like to maintain that open structure while we focus on equity across attorneys, across practice groups, and across clients to provide great opportunities for everyone. Fair work allocation is a key ingredient in achieving equity.
March is Women's History Month. How would like you like to see the legal field commemorate it beyond the usual pageantry of citing significant women lawyers and judges?
I've actually been thinking about this issue. In my view, one the best ways to celebrate Women's History Month is to hear from some of our young women attorneys at the firm and pick their brains about who they look up to and who they have been shaped by. That doesn't necessarily mean a lawyer or a judge, but a woman who has had a big impact in their lives.
So, each week in March, we are doing a social post based on women who our attorneys have chosen to highlight. It spans the gamut from the first woman in space to social engineers.
There is a talented woman attorney at the firm who played college soccer. She talks about how Title IX shaped her life even before she ever got into college, and how she pursued sports because she was empowered by seeing women pursue education and sports in ways unthinkable before Title IX. As she recounts that experience, it's really moving hearing about how women have inspired other women. I hope you'll be reading these interesting weekly posts.