Wellness & Beyond
Destigmatizing Mental Health & Supporting Women's Well-Being
March 18, 2022
Celebrated each March, Women's History Month is a time to highlight women's contributions throughout history;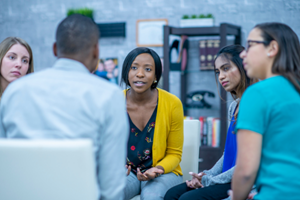 however, doing so prompts us to reflect on how our society continues to create barriers and further gender-based inequality.
We are reminded that despite great strides, we have a long way to go. "There still aren't enough women equity partners in Big [L]aw," Jill Switzer wrote in a 2019 Above the Law article. Among general counsel, women comprise 31 percent of attorneys, but they're paid almost 40 percent less than their male counterparts, according to the 2019 General Counsel Landscape report. "When do income and gender parity become realities and not just aspirations?" asked Switzer.
Exacerbating hardships for women, the pandemic has had a significant effect on women's mental health and well-being. Not surprisingly, women attorneys have taken on extra caretaking duties during the pandemic, supervising remote learning and struggling to balance full-time work with full-time parenting. A lawyer well-being survey in 2020 found that women in the legal profession are more likely to engage in risky drinking (56 percent versus 46 percent) and hazardous drinking (34 percent versus 25 percent) relative to men. The survey, which was sent to members of the D.C. Bar and the California Lawyers Association, found that more women consider leaving the law due to mental health problems, burnout, or stress than men (24 percent versus 17 percent), and women report having to work harder to achieve the same recognition as men in the workplace.
For centuries, women's mental health has been stigmatized. When women expressed "normal" emotions such as anxiety, depression, or distress, they were labeled with the mental condition of "hysteria." Quoting Arianne Keegan's 2021 blog for the Legal Action Center, our systems have "illustrated a shameful historical reluctance to treat these health issues in a way that facilitated sustainable, dignified healing — and it sadly persists to this day."
In recognition of the demands placed on women and the stress they endure, the National Women's History Alliance has made this year's theme for Women's History Month "Providing Healing, Promoting Hope." The theme is "both a tribute to the ceaseless work of caregivers and frontline workers during this ongoing pandemic and also a recognition of the thousands of ways that women of all cultures have provided both healing and hope throughout history."
There is no better way to promote healing and hope than in collective community with one another. With this in mind, the D.C. Bar Lawyer Assistance Program (LAP) has started a weekly support group for women experiencing challenges such as managing expectations, pervasive sexism, imposter syndrome, burnout, penalties for parenthood, and career advancement barriers. With connection and support in mind, the LAP welcomes all self-identified cis and trans women Bar members and law students to join the LAP Women's Support Group. This free and confidential discussion group will meet every Wednesday via Zoom at 12 p.m. EST and is facilitated by an LAP counselor. For more information on LAP services, email [email protected].
As women continue to shoulder the burden of the pandemic, taking on more household work and caretaking roles, gender inequities persist in the workplace. It is essential to address the systemic structures that impact women's mental health and provide access to mental health resources as well.
Sharon Greenbaum, LICSW is a counselor for the D.C. Bar Lawyer Assistance Program.