Profiles
Amber Cleaver: Leveraging Her Business Skills as a Litigator
April 01, 2022
Prior to becoming an attorney, Amber Cleaver of KPM Law in Fairfax, Virginia, was in sales, starting as an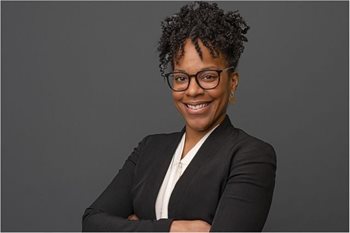 inside sales representative and working her way up to management. The Kansas City, Missouri, native headed up a business development department at a tech company, where she built marketing and sales processes and strategies.
A graduate of American University Washington College of Law, Cleaver has been practicing since 2016. During the pandemic, while an associate at Budow and Noble, P.C., Cleaver was looking for something to motivate her when trials were canceled, so she engaged her passion for cooking to launch Mo' Better Chews, a catering company based in Hyattsville, Maryland.
Cleaver recently took time out of her busy schedule to talk with the D.C. Bar about her dream of becoming a lawyer and her current practice.
Why did you decide to become a lawyer?
I had wanted to be a lawyer since I was in preschool. My earliest memories were of watching lawyers on television in old Lifetime movies with my mother and being completely engaged in everything I saw. I was first intrigued by the persuasiveness and intensity. As I grew older, I saw becoming a lawyer as a way to help others navigate through difficult and intense situations. In addition, becoming a lawyer has been the best way for me to enhance and utilize my analytical skills, creativity, and persuasiveness.
Your practice areas include civil defense, insurance defense, fraud, motor vehicle torts, and premises liability. Can you describe how these areas became your niche?
Honestly, I never saw myself practicing in insurance defense. I initially wanted to pursue a career in criminal defense and/or family law. However, I was given the opportunity to practice insurance defense, which I knew would encompass several different areas of law, and that was intriguing to me. The most important thing to me was being able to litigate, no matter the practice area, and insurance defense gave me that opportunity to spend a lot of time in the courtroom.
Are there many women in these practice areas?
I have come across many women in this area. My last firm, a small firm, was made up of 11 attorneys, 7 of whom were women. I think the diversity in insurance defense is likely due to the diversity of areas within the practice area itself.
What excites you most about your practice?
Litigation! I come alive in the courtroom, and I love all aspects of litigation. I enjoy the fact that I have so many opportunities to handle trials, and that experience has truly advanced my career. With litigation, I get to use facts, good or bad, and create a journey that I want the court to follow. It requires me to consider and adjust to my audience, pivot on the fly, and create compelling arguments that involve significant issues. So, it's delicate because people are involved, and it's intense because people are involved, and I love it. I also enjoy the variety I experience each day. No issue is the same. Every EUO [examination under oath] with a similar set of facts ultimately becomes something completely new for me to adapt to and approach in a different way.
As a Kansas City native, what made you relocate?
I relocated in 2006 to attend Howard University. I always knew I wanted to attend a university outside of my home state, and I fell in love with D.C.
Why did you join the D.C. Bar?
I joined the D.C. Bar to expand my resources and access. Ultimately, I wanted to become a part of a bar association that would afford me access to mentorship, ongoing education, and a lifetime network inside the legal community.