Practice 360° Looks at Approaching Law Firm Growth With Intentionality
July 19, 2021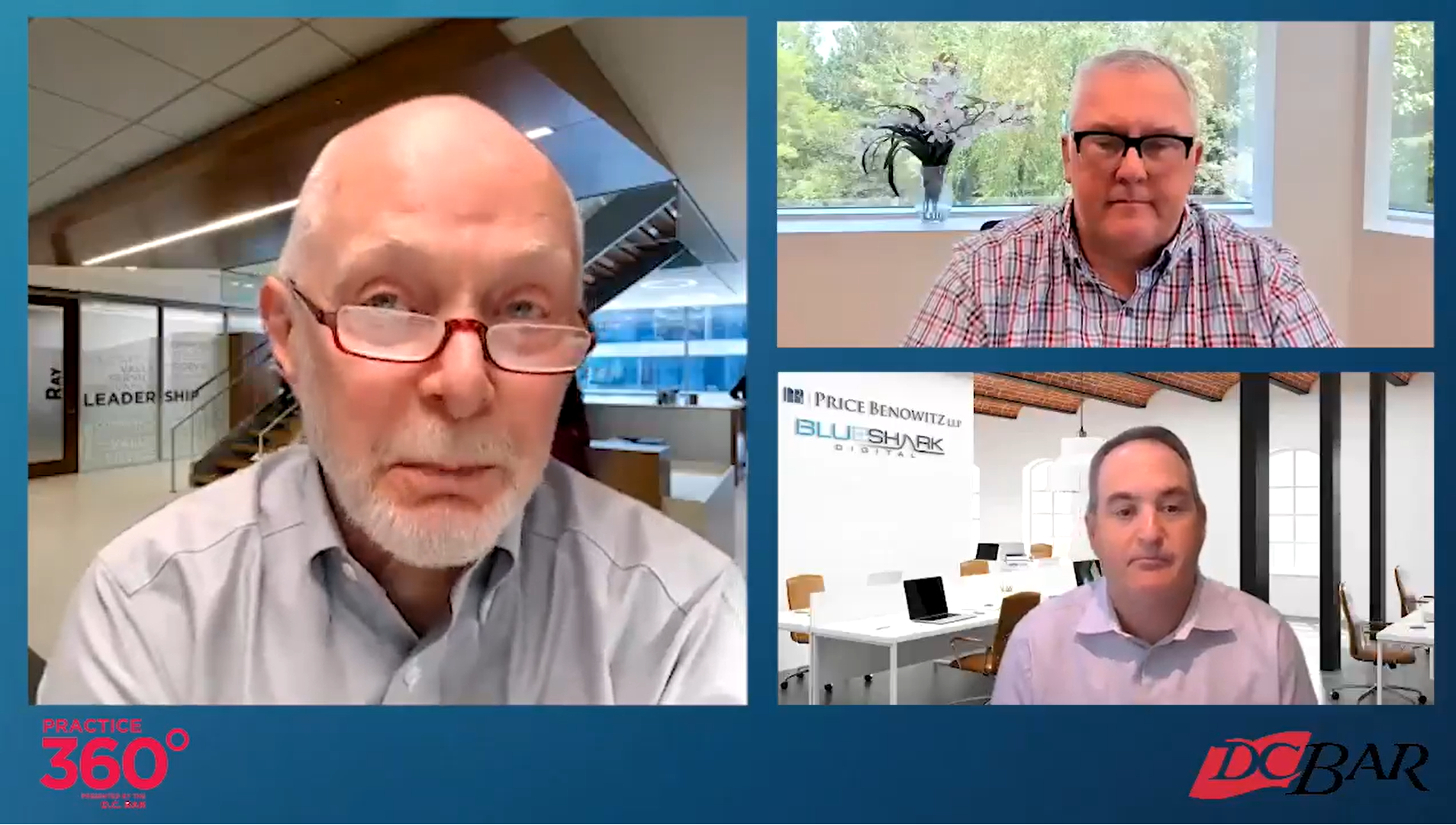 Clockwise from left: Dan Mills of the D.C. Bar Practice Management Advisory Service, Jay Ruane of FirmFlex, and Seth Price of BluShark Digital
At this year's Practice 360° conference, held virtually on July 15, numerous speakers focused on tips and resources for attorneys to grow the size and profitability of their legal practices post-pandemic.
In the session "Max Growth Live: Practice Management, Marketing, and Beyond," moderator Daniel Mills of the D.C. Bar Practice Management Advisory Service engaged panelists Jay Ruane of FirmFlex and Seth Price of Price Benowitz LLP in a discussion about driving growth as the economy recovers. The session looked at the use of both systems and marketing to create an efficient and profitable business.
Price, who is also CEO of BluShark Digital, called the pandemic a "fire drill" that effectively tested law firms' adaptability and resilience. He and Ruane went on to describe how systematizing processes on the one hand and engaging in an ongoing process of experimentation and adaptation on the other can capture value for firms.
Ruane, a Connecticut criminal defense attorney whose company advises law firms on effective social media marketing, said that thorough systematization can help keep a business agile. "It makes it a lot easier to onboard staff if you can say, 'By the way, you don't need to ask me these questions; here's my book on how to do things in my law firm.'"
Price commented on the downside of failing to document a law firm's systems and how fear of losing institutional knowledge could prevent or delay necessary turnover in staff. "Systems can allow you not to be beholden to somebody who's either underperforming or toxic to your environment," he said.
The pair also addressed how a niche practice can help elevate an attorney's profile and drive law firm growth. "It's not limiting to say that you have certain niches that you're going to focus on," Ruane said. "You can have a law firm that has multiple niches within it." Focusing on a niche allows a firm to build systems for that vertical, Ruane said, and with it comes significant marketing advantages.
In the afternoon presentation "Why Isn't My Law Firm Making More Money?" Mary Ellen Hickman, founder and managing partner of Hickman Consulting Partners, similarly asked practitioners to examine their businesses and act with intentionality to increase profits and productivity.
Hickman laid out a five-step plan for business owners to increase firm revenue: pay yourself a salary, set a revenue goal, bill in full and on time, charge the right price, and choose better clients. The individual steps are so simple that they might seem obvious, Hickman said, but failure to approach them with intention accounts for many of a business's lost opportunities.
Many of her consulting clients complain that they aren't good with math, but Hickman stressed that tracking things like profit and loss actually involves relatively simple record keeping. Salary is an important first metric and is counted as a business expense, she said. Once salary is determined, it is important to set a revenue goal, one that accounts for expenses, including payroll.
Hickman said she often receives some pushback from clients when she gets to the pricing and client selection part of her plan, but she emphasizes to clients the importance of properly valuing the services they provide and explaining that value to potential clients. "Your clients want good value," Hickman said. "Your clients never want the lowest-priced attorney. Attorneys do good work. Attorneys solve problems for clients."
Issues with getting paid appropriately often arise because the attorney failed to communicate their value, she said. Choosing better clients means understanding a client's ability to pay, Hickman added.
In discussing these considerations, Hickman's analysis often dovetailed with that of Price and Ruane. The pair's support for systemizing processes aligned with Hickman's advice that business owners set and track goals. Taken together, the takeaway for attendees is that nothing in running a successful law firm occurs without prior consideration.