Get to Know D.C. Bar President-Elect Candidate Ellen M. Jakovic
April 06, 2021
The 2021 D.C. Bar general and Communities elections will run from April 29 to May 24. The full slate of candidates is available here. Voting is exclusively online.
Eligible voters will receive an email link to the general election ballot, as well as to the ballots for their D.C. Bar Communities, from DirectVote (via Survey & Ballot Systems), an independent vendor administering the 2021 D.C. Bar elections
---
When it comes to stepping up to the plate to lend her expertise in voluntary roles, antitrust attorney Ellen M. Jakovic understands what it means to make that commitment. For the past two decades, Jakovic, of counsel in Kirkland & Ellis LLP's antitrust practice group, has been actively involved in several voluntary bar associations and served two terms on the D.C. Bar Board of Governors.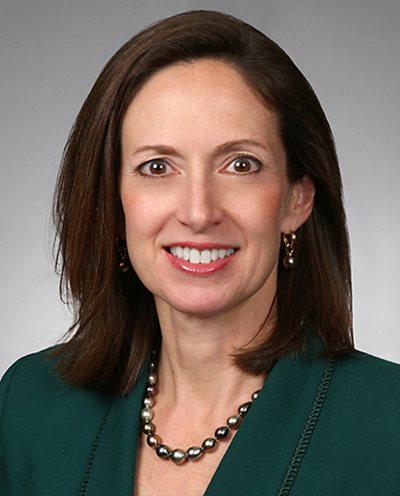 Jakovic seeks to continue that long history of service by running for D.C. Bar president-elect for the 2021–22 term to help advance the Bar's role as a leader in the legal profession and support its commitment to expanding access to justice.
"I was fortunate to work alongside and be mentored by some of D.C.'s most respected legal legends and visionaries, including many of our D.C. Bar past presidents. Their leadership and dedication to improving the legal system and supporting our members has been inspiring, and I am excited about this opportunity to contribute my talents and experience," Jakovic says. "It would be an incredible honor and privilege to serve the D.C. Bar and its members as president-elect."
Advancing the Bar's Mission
Jakovic served on the Bar's Board of Governors from 2004 to 2010 and has been engaged with the D.C. Bar Pro Bono Center in various capacities, including serving as chair of its Presidents Reception Development Committee in 2006.
Jakovic is a past president of the Women's Bar Association of the District of Columbia, the Women's Bar Association Foundation, and The Barristers. She has served on the boards of the DC Bar Foundation, the Council for Court Excellence, the Bar Association of the District of Columbia, and the Washington Foreign Law Society. She is currently a sitting member of the board of directors of the American Bar Foundation.
"The D.C. Bar and our voluntary bar associations are vital to the strength of our legal community. From offering substantive legal programs [and] opportunities to mentor young lawyers [to providing] support for pro bono and legal services providers, the D.C. Bar continues to sustain our profession at the highest levels," Jakovic says.
Jakovic vows to bring to the position of president-elect her advocacy for pro bono work and access to justice, seeking "creative collaboration" with other stakeholders in the legal community, including the D.C. Courts, civil legal services funders, legal aid providers, and voluntary bars.
Jakovic says she will also draw on the strength of the D.C. Bar as a diverse organization. "I will continue the important work of fostering an inclusive environment that welcomes and values the unique talents and contributions of our diverse membership by promoting leadership and mentoring opportunities for women and diverse attorneys and soliciting input to ensure that the D.C. Bar's programs and structures reflect the diverse interests of our members," she says.
Another priority will be to explore ways to help the D.C. Bar Communities and voluntary bar associations in the District grow and thrive. "Having served in leadership roles in a number of voluntary bar associations and as liaison to several D.C. Bar Sections (now Communities), I deeply value the contributions of these organizations in supporting our shared values of service, integrity, support for the rule of law, and advancing access to justice."
Meeting Post-Pandemic Challenges
The legal profession has not been immune to the impacts of the coronavirus pandemic, and the past year has witnessed attorneys from Big Law to solo practice navigate the challenges of balancing the demands of work and life during a global health crisis. Jakovic says the D.C. Bar plays a vital role in assisting attorneys, and the communities they serve, as society slowly returns to normal.
"As our country and the world emerge from the pandemic, our members will look to the D.C. Bar for continued leadership in innovative programs and resources that will support professional development and enhance the delivery of legal services to those in need," Jakovic says. "Our members will rely on the D.C. Bar for strategies that will enable their practices to thrive going forward by building on what we have learned from delivering legal services remotely during the pandemic."
"I will encourage collaboration among our courts, D.C. Bar Communities, and voluntary bar associations to identify and address challenges that our members, and those in our community who are most vulnerable, will face in the aftermath of the pandemic. I will support our membership by increasing access to and information about the incredible resources of the Bar's Practice Management Advisory Service and Lawyer Assistance Program," Jakovic adds.
As the vaccine rollout continues, Jakovic says she joins other Bar members and colleagues looking forward to being able to safely gather in person again. "The fellowship and collegiality that our D.C. Bar Communities and voluntary bar associations generate are powerful antidotes to the isolation and mental health challenges that have been especially problematic during the pandemic," says Jakovic.