Former Bar President John Cruden Receives ABA Lifetime Achievement Award
November 02, 2020
The American Bar Association (ABA) has honored former D.C. Bar president John C. Cruden with the Lifetime Achievement Award for Environmental Law on October 20 during the ABA Section of Environment, Energy, and Resources' virtual 28th annual Fall Conference. Cruden is the third recipient of the award, which recognizes an attorney who has "dedicated a lifetime to achievement in environmental, energy, or resources law and policy before courts, agencies, U.S. Congress, state legislatures, or other institutions."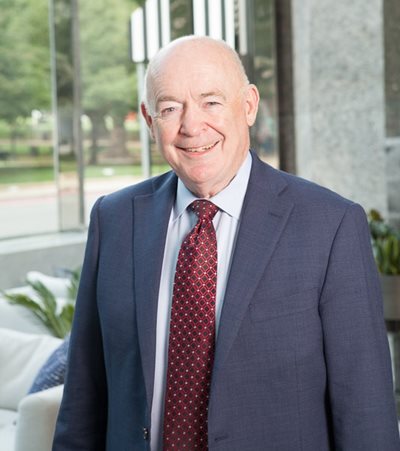 "I'm humbled because I know so many outstanding individuals they could have chosen," Cruden said. "There were so many people who helped me throughout my career. So, I'm accepting the award not just for myself [but also] for literally hundreds of people who have affected my life and kept me in environmental issues."
Cruden started making his mark on national environmental law in 1991 when he became chief of the Environment and Natural Resources Division (ENRD)'s enforcement section at the U.S. Department of Justice (DOJ). "Many of the laws that we were litigating were new at that stage, particularly the Comprehensive Environmental Response, Compensation and Liability Act," Cruden said. "We were litigating statutes and creating legal theories every day of our lives. It was very rewarding but extremely demanding. But I think it made us all better lawyers."
Cruden stayed with the DOJ for more than 20 years. During his tenure, he supervised landmark lawsuits such as the Exxon Valdez oil spill class action; the Love Canal case in Niagara Falls, New York; and the Bunker Hill Superfund Site case in Idaho.
After Cruden became assistant attorney general for the ENRD in 2015, he led the settlement negotiations for the Deepwater Horizon oil spill and Volkswagen emissions cases. "Both of those cases are the largest environmental cases of all time; both of them exceed $20 billion dollars," he said. "I'm proud of that, but also I'm quite proud of the fact that during my tenure at the Department of Justice, I was able to hire a lot of really qualified people. I'm proud of bringing people into the environmental law field."
A Pioneer for Federal Government Pro Bono
While working at the DOJ, Cruden served as D.C. Bar president between 2005 and 2006, becoming the first government lawyer to serve in the position. "I was the deputy assistant attorney general of the environmental division; I was supervising basically all of the environmental litigation in the United States," Cruden said. "I had an attorney general, John Ashcroft, who was very supportive of me becoming D.C. Bar president."
During his presidency, Cruden significantly increased the number of federal government attorneys volunteering at the D.C. Bar Pro Bono Center.
"John's first official act as D.C. Bar president, announced in his speech the night he was sworn in, was to send a letter to the general counsel of every federal agency, urging them to adopt pro bono policies and launch programs for their lawyers if they didn't have one, or to expand programs already in existence," said Maureen Thornton Syracuse, former director of the D.C. Bar Pro Bono Center. "In true John Cruden fashion, he didn't stop with sending a symbolic letter; he organized meetings with general counsel and opened doors for the Bar and DOJ Pro Bono Program Manager Laura Klein."
Syracuse recalled a trip with Cruden and Klein to the Pentagon, where Cruden spoke at a regular meeting between the general counsel of the Department of Defense and the general counsel of all the armed services. "With John making opening remarks about how important pro bono work is and how it could benefit the agencies and their lawyers, Laura and I were able to explain our programs, why we needed their lawyers, and the support we could offer," Syracuse said. "He opened doors we'd been trying to open for years. Several services started pro bono programs as a direct result of that meeting."
Cruden credits Klein for making the Federal Government Pro Bono Program possible. "She was the vehicle by which I was able to accomplish so much when I was D.C. Bar president. She's an inspiration to all of us," he said.
Cruden also sponsored a resolution in the ABA House of Delegates to encourage governments to support their attorneys' pro bono efforts.In 2011 the Federal Government Pro Bono Program named an award in his honor — the John C. Cruden Federal Agency Pro Bono Leadership Award.
D.C. Bar CEO Robert Spagnoletti said the ABA Lifetime Achievement Award is a "well-deserved recognition." "In addition to his significant contributions to the field of environmental law, Mr. Cruden has consistently demonstrated his tireless commitment to pro bono work, making a huge impact on the D.C. Bar, the D.C. Bar Pro Bono Center, and the community we serve," Spagnoletti said.
Pro Bono Center Executive Director Rebecca K. Troth echoed the sentiment, adding: "To say that John's initiative was successful is an understatement, as more of our pro bono attorneys work for the federal government than any other private or public employer."
Still Fighting for the Environment
Cruden's respect for the environment began while growing up in Taylor, Michigan, which was then a small farm town surrounded by forest. He graduated from the United States Military Academy (West Point) in 1968, and later was a fellow at the U.S. Army War College and the Command and General Staff College. He took the LSAT while serving in Airborne, Ranger, and Special Forces units in Germany and Vietnam, and in 1971 he obtained leave to enroll in the Santa Clara University School of Law, graduating summa cum laude in 1974. Cruden continued his education at the University of Virginia, where he earned a master's degree in government and foreign affairs in 1975.
He had a distinguished military career, serving as a staff judge advocate in Germany, a civil trial lawyer at the Pentagon, chief of the European Litigation Branch, general counsel for the Defense Nuclear Agency, and eventually chief legislative counsel for the U.S. Army.
Before becoming assistant attorney general for the ENRD, Cruden served as president of the Environmental Law Institute between 2011 and 2015. From 2015 to 2017, he chaired the ABA Section of Environment, Energy, and Resources, and served as president of the American College of Environmental Lawyers. He is currently principal at Beveridge & Diamond PC, as well as an adjunct professor at The George Washington University and Santa Clara University law schools.
"I was surrounded by extraordinary individuals who shared my passion for environmental law. They gave me advice, mentored me, and assisted me," Cruden said. "Now, I'm trying to be in a position to pay back by helping others."
This year marks the 50th anniversary of both the U.S. Environmental Protection Agency and the observance of Earth Day. While reflecting on some of the environmental challenges the United States is currently facing, including California's recent wildfires and the extended hurricane season, Cruden emphasized the importance of being active in initiating political change for the better.
"A lot of our environmental law comes from citizen involvement," he explained. "The first Earth Day resulted from millions of people coming out. That transformed the country from having very few environmental laws to now having approximately more environmental safeguards than any other place in the world. Environmental law is really built on individual accountability and individual activism."