D.C. Bar Honors GW Law's John Whealan With Champion of Intellectual Property Award
June 27, 2022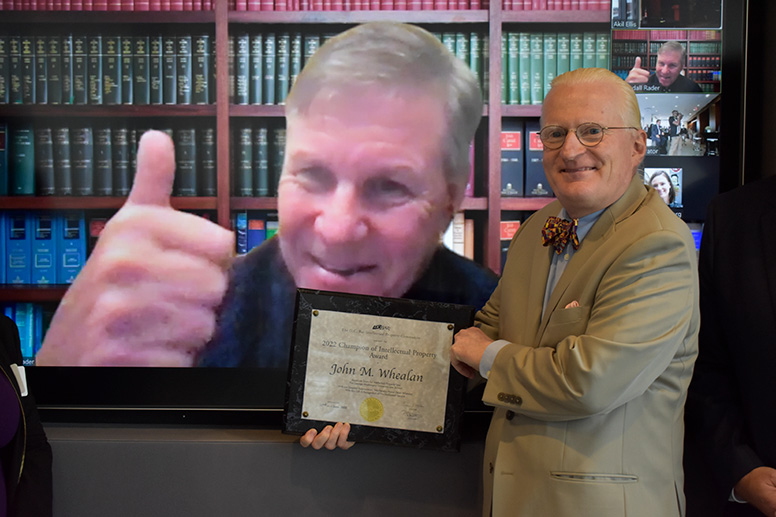 George Washington University Law School associate dean for IP law John M. Whealan receives the D.C. Bar Intellectual Property Law Community's Champion of Intellectual Property Award. Shown on screen behind him is U.S. Court of Appeals for the Federal Circuit retired Chief Judge Randall R. Rader, who lauded Whealan's impact on future patent attorneys.
On June 22 the D.C. Bar Intellectual Property (IP) Law Community honored John M. Whealan, associate dean for IP law at George Washington University Law School (GW Law), with its Champion of Intellectual Property Award. The ceremony was held in person on the rooftop of the D.C. Bar headquarters.
In a remote broadcast, retired chief judge Randall R. Rader of the U.S. Court of Appeals for the Federal Circuit remarked on Whealan's outstanding legal career, particularly his impact on future attorneys. "Every year, 20 or 30 students rely heavily on him for advice and counsel," Rader said. "He is the conduit that gets them internships and clerkships. There is an entire generation of young patent attorneys, some of them now moving into the middle of their careers, who have a great deal to owe to Dean Whealan. That is his crowning achievement. He is indeed a champion of IP."
Before joining GW Law in 2008, Whealan worked at the U.S. Patent and Trademark Office (USPTO) beginning in 1996, first as acting deputy solicitor, and then as deputy general counsel for IP law and solicitor. During his time at USPTO, Whealan argued approximately 30 cases before the Federal Circuit and helped brief and argue more than 250 others.
Previously, Whealan was a staff attorney and litigator for the U.S. International Trade Commission for three years. In New York, he worked for one year in private practice at Fish & Neave as an associate. Before entering the law profession, he spent two years at General Electric as a design engineer.
Whealan has also been an adjunct professor at the University of New Hampshire Franklin Pierce School of Law and has taught courses at George Mason University Antonin Scalia Law School and Chicago-Kent College of Law.
In his acceptance speech Whealan expressed humility and self-effacing humor as he centered on two themes — gratitude and mentoring. He thanked numerous colleagues, judges, and family members who have supported his professional and personal development. When reflecting on his role as associate dean at GW Law, Whealan credited his students' success largely on their hard work.
"I don't do anything at GW. I don't hire people; I don't get any people jobs; I don't sign a check. I try to move people around by making suggestions," Whealan said. "When students ask me, 'How can I repay you?' I tell them, 'Pay it forward.'"
"You are going to have the opportunity to help somebody else. Maybe not tomorrow, but everyone is going to have an opportunity to really help somebody else. So, that's what you should do. I think it's very rewarding, I think it's fun, and I think it's the right thing to do," he added.