At 2022 D.C. Bar Conference, Speakers Contemplate Challenges & Future of Law
June 28, 2022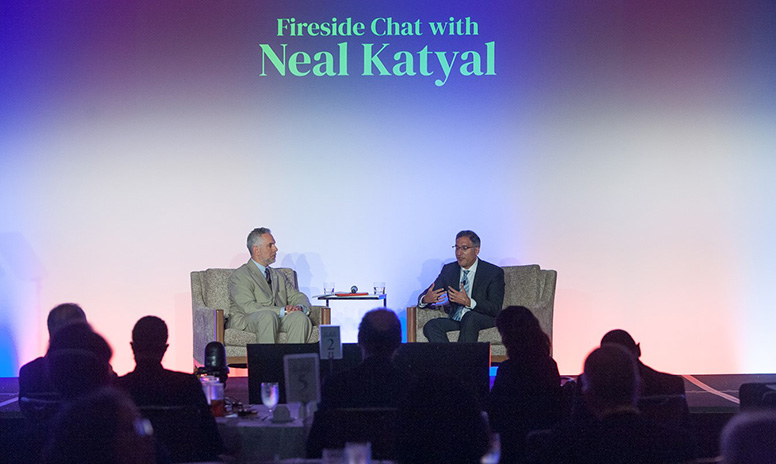 D.C. Bar immediate past president Chad Sarchio and former acting solicitor general of the United States Neal Katyal talk about the challenges facing the legal profession. Below, former Bar presidents Marna Tucker and Philip Allen Lacovara (left and right, respectively), former chief programs officer Cynthia Hill, and CEO emeritus Katherine Mazzaferri were among past leaders in attendance at the 2022 Conference celebrating the Bar's 50th anniversary.
D.C. Bar members, leaders, and others in the D.C. legal community gathered on June 23 at the Renaissance Washington, DC Downtown Hotel for the Bar's 2022 Conference celebrating its golden anniversary and envisioning its next 50 years. The event featured panel discussions with past and present leaders of the Bar as well as a fireside chat with high-powered U.S. Supreme Court litigator Neal Katyal.
Katyal, a partner at Hogan Lovells who previously served as acting solicitor general of the United States, sat down with D.C. Bar immediate past president Chad Sarchio to talk about his life in the law and the current challenges facing the legal profession.
Katyal addressed criticism leveled against some legal practitioners in recent months, drawing distinctions between those who represented unpopular clients and those who facilitated the commission of crimes. "I think that our job as lawyers is to zealously advocate for our clients. It bothers me to no end when lawyers are criticized for defending the positions of their clients," Katyal said, pointing out that there is a clear line between arguing for an unpopular client and facilitating their criminal activity.
"I'm very worried about this larger societal trend of tribalism infecting the bar and making it OK for people to think they can go and take some of the positions they do, which is just giving legal cover for a crime," he said. Katyal believes that society's growing politicization is a threat to the legal profession, and fears that increasing divisions within the profession are challenging its function as "the glue of our society that keeps the fabric together."
Asked by Sarchio how attorneys might help repair societal divisions, Katyal said there are opportunities to reach out to youth to show them how order of the court provides an environment in which parties in disagreement can find resolution through logic and debate, rather than violence and name-calling. Katyal described how before the pandemic he would invite classes of elementary school children to the Supreme Court to watch oral arguments.
On how the practice of law can be improved, Katyal said it should start with acknowledging its nature as a human enterprise and accepting the profound emotional experiences that practice can bring. In 2020 Katyal served as pro bono special prosecutor in the George Floyd murder case.
"Obviously, there's no way to do a case like that without being emotional," he said, describing being deeply moved by the bravery of the Floyd family. "It's so hard for any of us to have watched that video, even once," he said. "Could you imagine it being about your brother and watching it every day in court for 30 days? The dignity and strength of that family is something that will stay with me for the rest of my life."
At 52, Katyal holds the distinction of having argued 45 cases before the Supreme Court, the most by a minority attorney, recently breaking the record held by Thurgood Marshall. Katyal said his family's expectation was that he would study medicine, but his father's wrongful termination during his teen years had an impact on the career he would choose for himself.
Katyal recalled his father filing a pro se complaint in the Northern District of Illinois where a judge, seeing the evidence of racial discrimination provided in the complaint, appointed legal counsel to assist with Katyal's father's claim, which later produced a settlement. "It wasn't the dollars," Katyal said. "It was that the lawyer gave my dad his dignity, and that was so profound for me because I had been told that the only way you can help society is to be a doctor."
The Path Ahead for the Bar
The conference also provided an opportunity for former D.C. Bar presidents to look back on the Bar's history, highlighting the initiatives launched under their leadership that helped shape the organization, as well for current leaders to discuss the future of the Bar.
D.C. Bar CEO Robert Spagnoletti led a conversation with D.C. Bar Pro Bono Center Executive Director Kelli Neptune, D.C. Bar President Ellen M. Jakovic, D.C. Bar President-Elect Charles Lowery Jr., and Hispanic Bar Association of the District of Columbia President-Elect Shirley Diaz forecasting where the Bar, as well as voluntary bar associations, will be in the next 50 years.
Spagnoletti began with some "discouraging data" regarding the slow growth in the percentage of women and people of color at law firms, adding that "we have more folks leaving the legal profession at the back end than we do have coming in at the beginning." He noted that the number of new law students is on the rise, however. "So there is hope for the future."
"Here at the D.C. Bar … our membership has grown consistently. We usually grow between 1,000 and 2,000 members a year," Spagnoletti said. "Right now, we are the largest integrated bar in the country. So, what does our future look like?"
For the D.C. Bar to thrive in the next 50 years, Jakovic said it must continue to drive member engagement. "We have to make sure that to our members we are providing value," Jakovic said, citing the importance of partnerships with voluntary bars and the Bar's robust commitment to diversity, equity, and inclusion not just in terms of race, gender, ethnicity, and sexual orientation, but also in practice environment. "We need to make sure that everyone feels welcomed and see themselves as part of the D.C. Bar."
Lowery, who has been involved in a diversity, equity, and inclusion study conducted by one of the Bar's Communities, said nearly all people of color remain underrepresented in the legal profession. "Clearly there is a need to create a culture of inclusion. The report talks about how law firms and other places of employment can build that in. Inclusivity is helpful to all people. The study also looks at how we measure this process," Lowery said.
Diaz spoke about the District's 33 voluntary bar associations and how robust they are in terms of networking and professional development opportunities. The Hispanic Bar, for instance, has leveraged the power of social media to attract new members, Diaz said.
"[Through our] Instagram account, we've seen that [it] has brought in a lot more of our younger members, especially the ones who are still law school," Diaz explained, "because they won't necessarily be monitoring our website or even [our] Facebook page nowadays. They're really just spending their time on TikTok or Instagram. So, it's just being available in the means that they now use."
Neptune, on the other hand, called for an expansion of pro bono resources, advocating for better compensation for lawyers interested in going into pro bono service or public interest work. "[That] means increasing the legislative budgets to subsidize and pay employees," Neptune said. "It also means that we ought to have more grants to help subsidize lawyers and incentivize them into going into these [public interest] places. And I would also urge that we look at law schools' pro bono loan repayment programs. A lot of them are absolutely fantastic, but they have some limitations," she said.
In terms of the future of the Pro Bono Center, Neptune spoke about the importance of technology to allow more attorneys to volunteer for pro bono work and to reach more clients, especially those in areas that aren't as technologically advanced. "We have to go into the communities and engage our clients to bring technology to them," Neptune said. This also opens up opportunities for lawyers from across the world to volunteer, she added.