By Debra Bruno
August 7, 2017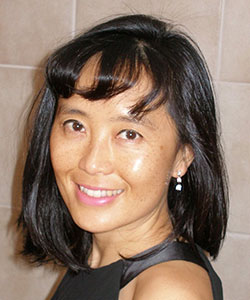 With members in all 50 states and more than 80 countries, the D.C. Bar is beginning a regular feature to profile the people who make up our community. Read about your peers, their lives, and their work around the world.
For Jade Wu, it all started in Malawi.
The rule-of-law expert got her first taste of international development work in that tiny landlocked country in southeast Africa. A two-year Peace Corps stint teaching English from 1995 to 1997 helped her realize that she was "fascinated by overseas development work," Wu says.
That start eventually brought her to live and work in five more countries: Kosovo, the Philippines, Germany, Iraq, and Afghanistan.
Now Wu has gathered her experiences into a book, Flash Points: Lessons Learned and Not Learned in Malawi, Kosovo, Iraq, and Afghanistan, published in July.
"I was affected by what I saw overseas," she says. "I saw repeated American mistakes and ignorance—not just at the highest levels, but also at the worker bee level." While enormous amounts of American money poured into countries like Afghanistan and Iraq, she says, it wasn't at all clear that the American programs were making enough of a difference.
Case in point: In Iraq, where Wu was part of a four-month State Department program in 2010 to teach English to government employees, she noticed that while Americans were "full blown" in terms of sending money, aid, and manpower, Baghdad's Green Zone was still experiencing regular blackouts. Even more disturbing, she says, was that Americans took over some of the former palaces of Saddam Hussein inside the Green Zone for offices, which created a "symbolism problem. Some people [saw] the new dictator as the United States."
Wu also served as a rule-of-law advisor in Afghanistan in 2011 where she encountered some powerful cultural challenges. Once, as she was explaining the American system of law to a group of Afghan judges, criminal defense attorneys, and policemen, she asked if there were any questions.
One man raised his hand and asked her, "Did your husband give you permission to be here?"
Wu says she wasn't completely shocked by the question. "I understood where he was coming from," she says. "I saw that most of the students were very conservative and likely the heads of their families."
She explained that she didn't have a husband, so she didn't need to ask his permission. Then she got a second question: "If you don't have a husband, did your father give you permission?"
Wu chose her next answer carefully. She told them, "I didn't have to ask my father permission to come here because I am beyond the age of discretion, which is 18 in the U.S., and I've already worked in several countries."
Next, she looked at their faces to see how well they digested that information. "On their faces was: We accept this from you, Jade, because you are a foreigner. In terms of allowing this kind of freedom [here], we will have to think about it."
Wu realized that she might have addressed a sensitive issue in a way that worked for the time and place. "I didn't want to get on my high horse and make a speech about women's rights," she says. "I was gauging the feel of my students. Having worked in five countries before Afghanistan, I knew that you have to step carefully when you enter a new culture, and not come across as an American who lectures other people."
In another instance in Afghanistan, Wu was asked to be the chaperone for a female law professor who planned to teach a course in another province. Since it was far, the woman would have had to travel alone and spend the night there, which would have raised questions about her reputation. "When I was asked to do that, the restrictions of that culture suddenly became very real to me," Wu says.
For Wu, that kind of experience is useful. Wu, born in Hong Kong and raised in Los Angeles, says she has advice for American lawyers. "Particularly if they trained here and grew up here, it's good to take a chance, an opportunity, and go outside their comfort zone. Go to another country and work within the legal system of that country," she says.
Besides her Peace Corps work, it might have been the job she took right after Malawi that pushed her into an intersection of law and international development. Just after the war in Kosovo ended in 1999, Wu was hired to help people who had been internally displaced by the conflict between Serbia and Albania. "It was the first time I experienced what it meant to be in a place when there was a complete breakdown of the rule of law," she says.
The courts weren't functioning, there was looting and domestic violence, and even the traffic intersections were chaotic, Wu recalls. She decided to apply to law school and took her LSATs in Rome. After law school at the California Western School of Law in San Diego, she became a prosecutor and a civil and criminal defense lawyer in Phoenix. "I got to know what billable hours were," she says.
Now, she does electronic discovery work in Washington and promotes her new book. She's on the lookout for new work. "I'm one of those lawyers . . . looking for the happy medium, where an international project also involves law," she says.
When she's not focusing on the law, Wu plays piano—baroque, classical, and a little Scott Joplin to break it up. She's also a huge fan of English history, especially the Tudors.
But it's clear her true love is the law. "What my journey has told me is that wherever you are in the world, the law follows you," she says.