Member Spotlight: Mina Haque Defies Odds to Achieve Law Career Dreams
September 09, 2020
When clients reach out to Mohaimina "Mina" Haque for help with immigration problems, she truly understands their situations because she draws upon firsthand experience.
The daughter of first-generation immigrants from Bangladesh, Haque moved a lot as a young girl as her parents searched for success in America. Their journey started in Glenside, Pennsylvania, took a detour back to Bangladesh, and continued in several states along the East Coast. She has fond memories of her parents recording her favorite American shows on VHS tapes so that she could always have a taste of American life. Eventually, she and many of her extended family members made Northern Virginia their home.
"That experience made me the person I am today," says Haque, who in 2019 started her own practice focused on a wide range of areas, including immigration, employment, and business law. "I'm pretty resilient, and I adapt to change, which has been very pivotal in my career."
Working in the District, where one in seven residents is an immigrant, Haque keeps a busy caseload and has represented clients from every continent. "Being from an immigrant family, they trust me because I know where they're coming from."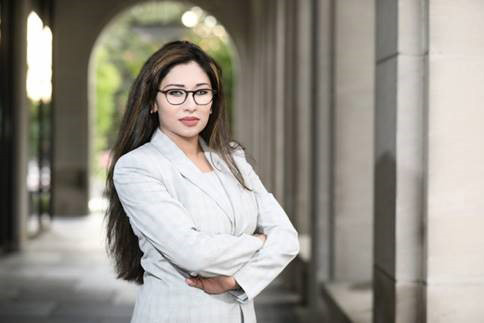 Haque credits her mother for putting the idea of a law career in her head as a teenager. "She wanted to be a lawyer but got married young and didn't have the opportunity." Haque also married young, at the age of 18. But as she watched her husband apply to Georgetown Law, it fueled her desire to achieve her own education goals. "I got to see everything up close, from his studying to taking the bar. I was a support figure for him."
When the opportunity came, Haque enrolled at Georgetown, too. But get this: She was pregnant, had their first child as an undergrad, and held down a full-time job at the U.S. Department of Justice. Taking advantage of Hoya Kids, a childcare center that caters to students who are parents, Haque studied and worked during the day and took classes in the evening, balancing parental duties with her husband, a technology-transactions attorney.
"I look back on the long nights. I had a very supportive husband," says Haque, who earned her bachelor's and master's degrees in social and public policy from Georgetown before graduating cum laude with her juris doctorate from American University Washington College of Law. Her daughter was four when Haque started on the path to her law degree. "I appreciate my early journey to motherhood. It gave me the resilience and determination to defy all odds to become an attorney."
Defy all the odds she did. While earning her master's, she was selected for the White House Internship Program and worked with senior officials, cabinet members, members of President Obama's staff, and other national and foreign dignitaries on the program's Domestic Policy Council.
Before law school, Haque served in the Department of Justice's Antitrust Division where she worked on the high-profile price-fixing case against Apple Inc. and was awarded the Assistant Attorney General's Award for Distinguished Service. She also assisted in reviewing the merger of US Airways and American Airlines as well as other notable energy company mergers. For over a year, Haque was a Legal Honors Program attorney with the U.S. Department of Housing and Urban Development, where she participated in complex rulemaking and provided legal advice and guidance to program offices.
With noteworthy experience under her belt, Haque decided to launch her own practice.
She praises the D.C. Bar's Practice Management Advisory Service for giving her the tools and confidence to hang out her shingle. Since 2008, this free service for Bar members has delivered courses, trainings, and more to help attorneys start and grow their own firm.
"The course was a game changer," she says, thanking advisor Daniel Mills for his guidance. "After I left my government job, I needed structure. The course was free, and it gives you all the issues you need to be aware of. To this day, Mills' advice remains in my head."
A year into the business, Haque is focused on taking on a variety of cases to gain experience and grow her firm. She is considering hiring an associate or two in the near future. Haque also inspired her husband to start his own practice based in Virginia and is lending a hand in setting it up. The couple now have two children, ages 10 and 3.
Looking forward, Haque says she would like to take on pro bono cases to help the community and guide young attorneys coming behind her. She advises them to think outside the box, believe in the value of legal education, and, most importantly, believe in themselves.
"Look into the resources that the D.C. Bar's Practice Management Advisory Service offers," she says. "Also, reach out to professors and other practitioners and experts in the field. You will be amazed at how many alliances, mentors, and advisors you will pick up along the way."
Stacy Julien is a writer based in Washington, D.C.