Author Chats
Lauren Stiller Rikleen's "Her Honor" Is a Testimony to the Triumphs and Travails of Women Judges
March 14, 2023
In 2020, when Lauren Stiller Rikleen was first approached by the American Bar Association to compile a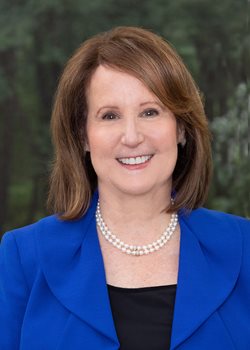 collection of essays on the personal and professional journeys of 25 prominent women jurists — including two Supreme Court justices — the idea intrigued her. She may have also felt right at home with the project.
Rikleen has authored books on women in the law, multigenerational office teams, and workplace sexual harassment, as well as more than 200 articles addressing social, political, and legal matters. Her expertise on issues relating to leadership and the legal profession, particularly on women attorneys, made her the natural choice to edit Her Honor: Stories of Challenge and Triumph From Women Judges.
Rikleen is president of the Rikleen Institute for Strategic Leadership, a consultancy focused on developing engaged and inclusive workplaces, and a board member and executive director of Lawyers Defending American Democracy. Active in the bar community, Rikleen is a past president of the Boston Bar Association and past chair of the ABA's Section of Civil Rights and Social Justice, among other ABA roles. She has also received multiple awards for her work involving women and legal practice.
Here, Rikleen provides a glimpse into the inspiring experiences of these groundbreaking women jurists and shares why she believes it's important to preserve their stories.
What led you to take on this project?
I was approached by members of the newly created editorial board of the [ABA] Judicial Division in August 2020. We all recall what was going on in 2020; we were spending a lot of time in our homes! I was asked if I would consider editing a book of stories from prominent women judges. The notion was that it might be interesting for the Judicial Division to have a book focusing on judges talking about their journeys.
They knew me, knew I like to write, and were familiar with other books of mine published by the ABA. I thought the idea was really interesting, especially since I normally spend a lot of time traveling and speaking, and at the time we were in lockdown.
The topic intrigued [me], but what was even more intriguing was the idea of crafting a book that could focus on the struggles and challenges that the individual judges faced with respect to bias, sexism, and sexual harassment in their own lives in a way that could be meaningful and relevant for today's audience.
We had a bunch of conversations about this, and what I eventually did was create a summary of themes that we then asked the judges to consider writing about. We wrote and asked them to participate and included a list of topics on which we welcomed their reflections and stories.
We gave them, I think, maybe a dozen examples to try to make it as easy as possible to understand what we were looking for — some of the harder choices they made in their careers and the challenges that were posed in making those choices; their experiences overcoming racism, sexism, or other types of stereotyping; and sharing examples of their responses to intersectional biases.
My hope was that they would address how they changed or challenged the status quo. Did they perceive themselves to be victims of bias? How did they work to level the playing field?
We also asked them to consider writing about pay and promotion inequality, and the relationship between women and power, because it's complicated. Women are often reluctant to seek positions of power or to put themselves forward. Yet here are these, by any definition, very powerful women in very important positions in society. What happens when they put themselves forward for these powerful roles? Did they face backlash? Those are the kinds of stories we sought.
What did you think about the replies you received?
I loved them all. There were submissions that truly left me in tears, such as when they wrote about their childhood experiences in the Jim Crow South or other extraordinary hardships they had to overcome. Everyone shared moving examples.
There are others where my first reaction was to question how a particular submission would work. And then, as I read and thought about it, I would see how it could fit perfectly.
For example, one submission focused on a leader in the National Association of Women Judges who recognized that the organization had a unique role to play in bringing together various constituencies to help [pass] the Violence Against Women Act. At first, the chapter seemed an anomaly, but as I considered it in the context of the other stories, I realized it provided a very important reflection on women supporting each other, building coalitions to effect change, and recognizing their own power to do so.
In the end, each chapter stands on its own and has its own lessons, even as there are common lessons and common themes.
Your book includes chapters on chief judges and Supreme Court justices, among other luminaries. Was it challenging to edit the writing of such prominent subjects?
That was probably the second hardest part of the book. The hardest part was getting everybody to actually submit the writing they committed to because everybody is so busy, and they live such impactful lives. But yes, it was very challenging. I probably didn't give enough thought to how challenging that would be. People are telling wonderful stories, but, looking at a story as an editor, I'm asking what could make it better … what is missing or where could we fill in a gap to enrich the narrative?
Judges are used to editing the work of other lawyers and not used to being edited, but the thing that most surprised me was how wonderful they were in responding. They were effusive in their appreciation of the comments, and I appreciated that because it took some of my panic out of the equation.
What makes these stories important to collect and share?
It is a way of preserving history. Many of these judges have retired, and some of the essays are about judges who are deceased, written by other prominent judges and lawyers on their behalf. Having that history of what they endured and triumphed over is important.
The second, equally important reason is for people today — whether a law student, a young lawyer, or someone well along in their career — to be able to pick up a chapter and see what others went through and yet emerged as a chief in the federal court system or a prominent judge beloved in their community … To be able to see what they endured and how they handled it is inspirational and, I think, the way the stories are told, people can see themselves in them. They aren't inaccessible. They share the pain they experienced, their thinking process, and their anger, and we all have those experiences.
Looking at how a person perseveres and triumphs is inspiring, and we need those kinds of stories today. When you look at the courts right now, their reputation is not nearly as strong as it used to be. One of the things I love about the book is that it reinforces how fortunate we are to have judges around the country who put the Constitution first, who put the rule of law first, and who care about the justice system and want to make life better for people.
Do you have any favorite stories in the collection?
At this point I'm a little like a mom when someone asks if they have a favorite child. I don't have a favorite. I can look at each chapter and tell you what I love about it. That said, a D.C. audience might be particularly interested in some of the stories in the book about confirmation battles.
For example, Judge M. Margaret McKeown on the Ninth Circuit Court of Appeals wrote a terrifically detailed essay about her experience of having a three-year wait before she was finally confirmed. She talked about it on the micro level in terms of specific meetings she had with senators and having to obtain permission to leave during a trial to go to D.C. for more meetings, only to be told upon her arrival that they were canceled. She described how the rug was repeatedly pulled out from under her as the process moved forward, yet she persevered.
At every turn, there was more delay. She likened her experience to a time when she was caught in an avalanche. She wrote that she didn't give up because she did nothing wrong — that if she gave up, others would fill in the gap about what drove her withdrawal. She understood that her delay reflected a political problem, rather than a problem with her own background or record.
One of the lessons of this protracted confirmation challenge was her understanding that her reputation was tied to seeing the process through to completion.
I thought it was a fascinating story of a confirmation fight and a glimpse at the resilience you need to get through that process.
Where can readers find your work?
Thank you for the question. The book, Her Honor, is available on Amazon and through the ABA. I am happy to participate in events, podcasts, or programs to help share the stories of these remarkable judges, and many of the chapter authors are as well.
I hope readers will also look at and support the work of Lawyers Defending American Democracy, an organization devoted to galvanizing the legal profession to do more to protect our democracy and the rule of law. This work is neither political nor partisan. Rather, it is about ensuring that our constitution works for everyone. People can sign up on our website to receive information about us.
Finally, the Rikleen Institute for Strategic Leadership website describes my work focusing on building a respectful, diverse, and inclusive workplace culture. The website links to my other books and articles as well.
I so appreciate the opportunity to speak with you!