Issues & Trends
From Health Care to Criminal Justice, Black Men and Boys Face Steep Disparities
May 13, 2022
Bringing together subject-matter experts from government, advocacy groups, and academia, the Commission on the Social Status of Black Men and Boys hosted a virtual roundtable in late April to examine inequities faced by Black males in the U.S. criminal justice system and discuss opportunities to address them.
Citing FBI statistics, Kristen Clarke, assistant attorney general for the Civil Rights Division at the U.S. Department of Justice, said that in addition to being incarcerated at roughly five times the rate of white men, Black boys and men are subjected to more hate crimes than any other group. In prison, dire conditions are also leading to increased homicides and suicides among their population.
In Mississippi, for example, Clarke said Blacks make up only 37 percent of the state's population, yet they account for 70 percent of its incarcerated people. A recently concluded DOJ investigation into conditions and practices at the Mississippi State Penitentiary at Parchman uncovered violations of the Eighth and 14th Amendments.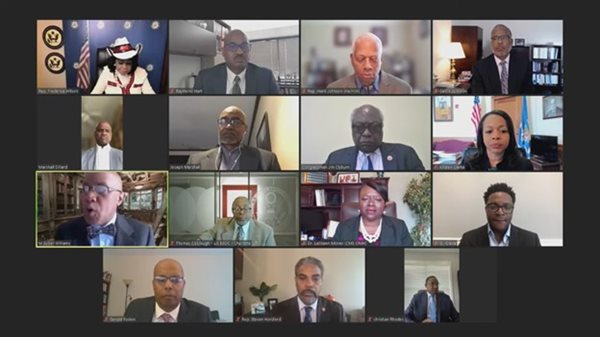 "The conditions at Parchman are so dire that they have resulted in 12 suicides and 10 homicides since 2019. We found inadequate mental health treatment, inadequate suicide prevention measures, overreliance on solitary confinement, and more," Clarke said.
Dr. Joseph Marshall, executive director of Alive & Free, a violence-prevention program based in San Francisco, California, said U.S. prisons are more about punishment than rehabilitation. "Something needs to be done about preparing men to reenter into society, and it must be done intentionally," he said.
Desmond Meade of the Florida Rights Restoration Coalition argued that restoring the voting rights of individuals reentering society after imprisonment can help prevent recidivism. He cited a 2011 Florida State University study that examined 30,000 individuals who were released. "When they looked at individuals whose civil rights were restored and were able to vote, get occupational licenses, and further their education, they saw a reduction of recidivism from 33.1 to 11.4 percent," Meade said. "The sooner you help the individual reintegrate back into their community, the least likely they are to commit another offense."
Cannabis Reforms
U.S. Representative Henry "Hank" Johnson addressed discrepancies in arrests for marijuana possession, noting that possession of less than an ounce of marijuana has historically landed Black men into the criminal justice system, which often can lead to other offenses.
"Statistics show that Black men and boys use marijuana at the same rate as white men and boys but are four times more likely to be arrested for cannabis possession than our white counterparts," Johnson reported. "And people of color have been historically targeted by discriminatory sentencing practices, resulting in Black men receiving drug sentences that are 13.1 percent longer than sentencing imposed on white men for the same offense."
As states reform their cannabis laws, the legal cannabis industry is increasingly becoming lucrative, with total sales projected to hit $33 billion by the end of 2022, Johnson said. "But not surprisingly, only four percent of cannabis business owners are Black," he said. "It's ironic that those most hurt by the criminalization of cannabis are excluded from the legal cannabis marketplace because of prior cannabis-related convictions."
In April 2022, Congress passed the Marijuana Opportunity Reinvestment and Expungement (MORE) Act, which decriminalizes marijuana as a controlled substance. It also establishes a process to expunge convictions and conduct sentence review hearings related to federal cannabis offenses and prohibits the denial of federal public benefits to a person on the basis of certain cannabis-related conduct or convictions.
"The MORE Act is a huge step forward to shut the gateway from the recreational use of cannabis into the criminal justice system," Johnson said.
The law authorizes the Small Business Administration to make loans and services available to legitimate cannabis-related businesses or service providers, requires the Bureau of Labor Statistics to regularly publish demographic data on cannabis business owners and employees, and establishes a trust fund to support various programs and services for individuals and businesses in communities impacted by the war on drugs.
Reset Centers
Black Americans also face inequities in education and health care, with schools typically criminalizing young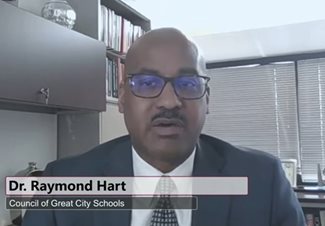 Black boys for behavior that would have less consequences for their white counterparts, according to Dr. Raymond Hart, executive director of the Council of the Great City Schools.
Some schools are addressing the problem by taking a different approach. Hart cited the Dallas Independent School District's "reset centers," where behavior support counselors and specialists sit with students dismissed from classes because of distracting behaviors that oftentimes result in suspensions.
"It resulted in some of the children's suspensions [being] completely eliminated," Hart said. "More than 90 percent of the students who went to the reset centers returned to the classroom with a better structure."
Hart also pointed out that many predominantly Black schools exist in health deserts, a problem that has been exacerbated by the pandemic. "Because they didn't have access to the same health care as their peers when [vaccinations became available], the amount of school that they missed was higher," Hart said.
The Commission on the Social Status of Black Men and Boys was established in 2020 within the U.S. Commission on Civil Rights. The 19-member bipartisan commission is tasked with investigating potential civil rights violations affecting Black males and studying the disparities they experience in education, criminal justice, health, employment, mentorship, and violence.
"This commission isn't built on politics. It's built on humanity, empathy, dedication, persistence, but most importantly, the desire for change. We must create stronger communities and an equitable society for everyone," said U.S. Representative Frederica S. Wilson, who chairs the commission, during the hearing.