Wellness & Beyond
A Note To Young Professionals: Spend Time With Your Family
March 16, 2023
On November 21, 2022, I was diagnosed with acute leukemia. I was outside doing some yard work and
became uncharacteristically winded. The next day I went to see my doctor, who rushed me to Johns Hopkins that afternoon. I was on high-dose chemo that evening.
According to my doctors, I have a rather aggressive form of leukemia, FLT3 AML. It's a crafty little mutation that accelerates the growth of abnormal blood cells, making it rather hard to corral and kill them. In any event, it turns out I need a bone marrow transplant to save my life.
Breaking this news to my family was uniquely difficult — and, like many of you, I have difficult conversations with people for a living. But this one was by far my hardest. I have two daughters — one a junior in college in Pennsylvania and the other a freshman in college in Colorado — both of whom, notwithstanding my many failings as a parent, seem to like me. As I geared up to break the news, all I could think was how painful it would have been to get this call from my dad when I was in school. I would have been a mess.
Not my girls, though. In fact, they both had the same immediate reaction: "Can I be your donor?!" Not a moment's hesitation. Not a thought about the disruption to their busy lives. Not an inkling of fear. Just a desire to play a role in saving their father's life. The beauty of that knee-jerk reaction brings tears to my eyes even as I write this.
Years ago, as a young lawyer in a big D.C. firm, a former colleague saw me heading to the elevator around 6 p.m. and asked me how I could leave work so "early." (Young lawyers back then were notorious for burning the midnight oil — and talking about it to anyone who would listen.) I explained that I made it a habit to have dinner with my family whenever possible. He gave me a "well, aren't you special" look and headed back to his desk.
But that was the lifestyle I chose. Family first. Now, I concede this lifestyle had me in my home office for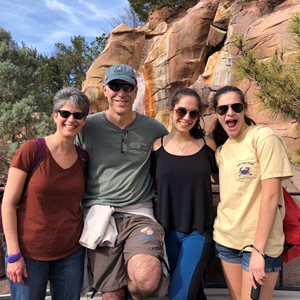 embarrassingly long hours after our kids went to bed, but to me, the price was worth it. I wanted to be a part of my kids' lives.As my daughters grew, the opportunities for meaningful participation grew, too. I gave myself the privilege of coaching their youth sports teams, being their middle school soccer team's photographer, and serving as their high school basketball team's statistician. And I made myself the promise that I would not do any of these things with a cell phone in one ear.
I'm certainly not alone in opting into a family-first lifestyle. I see countless busy young parents, at my firm and others, making time to play meaningful roles in their kids' lives. Most of us wouldn't have it any other way. But I suspect some of you, like I did, wonder whether your kids will remember the effort; whether the juice is worth the squeeze. Will your kids recall the camping trips, the weekend hikes, the vacations to Disney, the ear-wrenching piano recitals, the sporting events with you screaming from the bleachers? Will the dinners together at home stay with them? Will your commitment to being there matter?
The answer, you will be happy to hear, is a resounding yes. It does matter.
And, as it turns out, it matters to you, too. I'm convinced the time I spent with my daughters over the years played a significant role not just in who they have become, but also in who I have become. It made me a better person and a better friend, husband, colleague, and even lawyer. It made me stronger mentally and emotionally. I'm not sure I fully recognized the interconnectedness of all this until recently, but it's hard to miss when so many folks are giving you so much love and support. Friends are delivering daily meals to our house. My practice group colleagues hand-painted (sometimes off-color) ornaments to hang in my hospital room over the holidays. Clients call every day to check on me. My firm not only has provided unwavering support both emotionally and logistically, but also hosted a widely attended blood drive in my honor; even my clients donated. The support has been overwhelming.
As I head toward my bone marrow transplant, I concede I'm a bit scared. But whatever fear I have is far overshadowed by the warmth of knowing my family loves me, and by the contentment of knowing the work I put into trying to be a good father mattered — to them and to me.
Thanks, Alex and Jac (in advance), for saving my life. Thanks to my nieces and nephews for being ready to do so. Thanks, Liza (my wife), for carrying me through this current adventure. Thanks to my friends, colleagues, and clients for their unwavering support. Regardless of what comes next, I'm one hell of a lucky guy.
Jonathan Aronie is the leader of Sheppard Mullin's governmental practice group and co-founder of the firm's organizational integrity group. He also serves as the chair of the board of advisors of the ABLE Project, a joint effort of Georgetown University Law Center and Sheppard Mullin focusing on teaching law enforcement officers the tactics of active bystandership.
(Top photo: Sheppard Mullin partner Jonathan Aronie with his daughters Alex (left) and Jaclyn (right) in Savannah, Georgia, in 2014. Bottom photo: Aronie with his wife, Liza, and daughters at Disney World in 2018.)