Office and Retail

Receive special member pricing on your D.C. Bar certificate frame from Framing Success.
Members can purchase their Engraved Certificate separately from the District of Columbia Court of Appeals via the online order form or by calling 202-879-2710.
Other "Forms for Bar Admissions" can be found on the D.C. Court of Appeals website.

We're proud to be a part of the Office Depot OfficeMax Business Savings Program. This exclusive program provides our members with special deals that extend to almost every item.
The savings include:
Up to 55% off Office Supplies and cleaning & breakroom items
Up to 20% off ink & toner
Average 10% off 200+ technology items
Free next-day shipping on orders of $50 or more
SIGNIFICANT savings on copy & print
Sign up for our Office Depot Business Savings Program, administered by Excelerate America today. Click here to register now!
Prefer to shop in the store? Text EACard to 844.446.6358 to get the store purchasing discount card on your phone. Use the card at the time of check out and your discounts will come off and show on your receipt!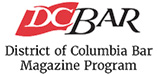 For years the D.C. Bar has been proud to offer deep discounts on magazine subscriptions as one of its membership benefits.
Orders placed through the D.C. Bar Magazine Program can be for new subscriptions as well as renewals, no matter how the subscription was originally ordered. And since the same low rates apply to new subscriptions, renewals, and gifts, members have the convenience of placing all of their magazine orders and customer service with one vendor.
Call 1-800-289-6247 or click here to obtain a current price list.
The District of Columbia Bar works to obtain discounts on a variety of products and services for D.C. Bar members. Members should fully evaluate each product or service to determine its suitability for the member's particular purpose. In some instances, The D.C. Bar may receive non-dues royalty revenue from products and services purchased by members; however, the D.C. Bar makes no representations, warranties, endorsements or recommendations containing any of the products or services listed.