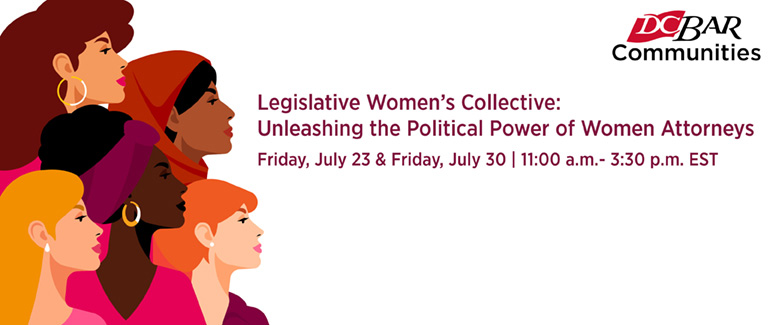 Legislative Women's Collective: Unleashing the Political Power of Women Attorneys
The D.C. Bar Communities is proud to present the first ever Legislative Women's Collective: Unleashing the Political Power of Women Attorneys. This nonpartisan program sets its sight on bridging the gender gap in politics by giving the tools needed for female lawyers to run for office. During the two-day program, women will learn about the different elected and appointed positions available, develop a roadmap to reach individual political goals, and prepare for the unique ethical requirements of practicing attorneys running for office.
Early bird application period ends June 25; Final application deadline July 9. Space is limited.
Who We Are
The Legislative Women's Collective believes that women should be at every table where decisions are made. We believe women attorneys in particular possess unique strengths, characteristics, and qualifications that make us well suited for political leadership. With interactive presentations, breakout groups, and inspiring keynote speakers, this program is designed to equip and empower women lawyers with the knowledge and confidence to run for a local, state, or federal position. Our keynote speakers and presenters are current and former elected officials and others who have participated in various aspects of campaigns. We also have strategists and trainers to work with participants on creating a practical workplan to take home and put into action after the program.
Program Overview
Day 1, July 23
Session 1: What Women Lawyers bring to the table & why we should run
Lunch Keynote
Session 2 – Where Women Lawyers lead
Day 2, July 30
Session 3 – Ethical Considerations When Running for Office: Political Power Has Limits
Lunch Keynote
Session 4 – My Workplan: How women lawyers make it happen
Questions? Email Brittany Sims Nwankwoala, Staff Attorney, at [email protected].