Approved by the Board of Governors on June 9, 2015.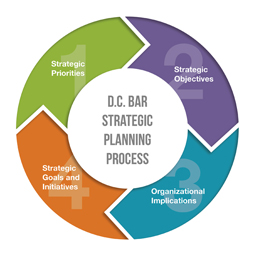 On June 9, 2015, the Board of Governors voted to adopt the following strategic priorities and objectives to serve as the foundation of "D.C. Bar 2020: A New Five-Year Horizon," the Bar's new strategic plan. They were identified by the D.C. Bar Strategic Planning Committee (SPC) after it completed a comprehensive environmental scan of the legal profession and extensive member engagement efforts.
These priorities and objectives are based on the input of thousands of members, the analysis of an internal staff team and third party market research and strategic planning experts, and the review and directional guidance provided by the SPC comprised of members representing all segments of the profession.
These strategic priorities and objectives will allow the D.C. Bar to account for its current activities and to build a set of initiatives for each discrete priority and across priorities to achieve desired outcomes. Those outcomes are set forth in the strategic objectives that are broadly defined below.
D.C. Bar Strategic Plan
Strategic Priority 1: Leading Within the Legal Profession
Demonstrate thought leadership that advances the profession and the administration of justice.
Recognize and explore the implications of the regional, national, and global practice of law


Foster a professional culture that prioritizes lawyer and law student wellness


Support innovations that result in increased access to legal services


Promote the integrity of a self-regulated profession
Engage in collaborative problem solving to address systemic challenges.
Collaborate with judicial partners and stakeholders on issues of importance to the legal profession and the administration of justice


Encourage greater diversity, equity, and inclusion in the profession to enhance the public's respect for the rule of law and trust in the justice system


Raise public awareness of the importance of legal services, the rule of law, and independence of the judiciary
Strategic Priority 2: Empowering Individuals
Cultivate opportunities to strengthen professional growth.
Assist members in adapting to the changing legal economy


Ensure D.C. Bar programs and structures reflect the diverse interests of the membership
Foster career exploration, development, and transitions to facilitate professional satisfaction.
Assist new members of the D.C. Bar in their transition from law school


Offer opportunities for members to develop business and leadership skills


Equip members to effectively navigate the demands of modern legal practice


Support lawyers who are exploring career transitions
Strategic Priority 3: Enhancing Member Value
Communicate and deliver value.
Engage members in an ongoing dialogue to better understand and anticipate how the D.C. Bar can serve them


Ensure products, services, and communications are cost-effective and targeted to members' specific practice needs


Increase multi-channel access to D.C. Bar products, services, and communications
Provide outstanding service experiences.
Prioritize ease of user experience in all member and community interactions with the D.C. Bar


Continue to enhance online and remote access to D.C. Bar programs and services
Strategic Priority 4: Providing Public Service and Professional Excellence
Promote access to justice to protect the integrity of the justice system.
Advance approaches that increase the delivery of civil legal services to those who cannot afford them


Support lawyers in fulfilling their ethical obligation to contribute time and resources to serving clients of limited means


Increase the availability of legal information and guidance on accessing lawyers and legal services
Enhance members' substantive knowledge and technological competence in service to their clients.
Provide leading-edge information that helps members enhance data integrity and security


Help members understand and leverage technology to ensure proficiency


Advance the use of technology to serve the best interests of clients
Advance the highest ethical standards among D.C. Bar members.
Promote the highest ethical standards to maintain a self-regulated profession


Educate our members about their ethical obligations, including those related to technology proficiency and providing legal services to those of limited means


Monitor the changing legal landscape and propose appropriate changes to ethical rules and obligations


Promote a culture that values civility and professionalism.
Strategic Priority 5: Fostering Community and Connections
Inspire members to view the D.C. Bar as their legal community of choice.
Encourage members to engage with the D.C. Bar and each other


Provide members with diverse engagement opportunities
Bridge both practice area and demographic spectrums.
Promote innovative connection opportunities that speak to member interests


Expand opportunities for law students to connect with the D.C. Bar
Strengthen national and global connections.
Support and engage members located outside the metropolitan area


Strengthen connections with state, national, and international bar associations in order to better serve members outside the metropolitan area
Strategic Priority 6: Encouraging Organizational and Operational Excellence
Communicate effectively with members to create greater understanding of the D.C. Bar.
Build awareness of the D.C. Bar's core functions and services


Increase member access to points of engagement


Develop targeted messaging that aligns with individual member preferences


Maximize consistency in brand messaging across business units
Nurture a culture of staff service and flexibility to serve members and the public interest.
Promote an adaptive, flexible, and nimble staff culture and processes to ensure safety, productivity, and business continuity


Align staff skill sets with emerging programmatic, technological, and administrative needs


Adapt to a post-pandemic environment by developing flexible policies that serve the needs of members and staff
Maximize the use and value of the building for staff, members, and stakeholders.
Ensure that the Member Connection Space is accessible, convenient, and safe


Optimize the use of the D.C. Bar headquarters as a gathering place
Sustain a strong fiscal position and effective use of resources.
Engage in contingency planning for anticipated disruptions in the legal economy, including potential declines in membership applications or renewals


Engage in financial forecasting to anticipate the D.C. Bar's short- and long-term financial needs, including maintaining sufficient reserves
Collaborate with voluntary bar associations and other partner organizations.
Develop the leadership pipeline with a commitment that leadership reflect the diversity of the D.C. Bar's membership


Augment the exchange of information for mutual benefit

Promote the shared values of professionalism, access to justice, and the importance of the rule of law